ANNUAL FUNDRAISER!! Help us take OCR to the next level by supporting us on
Sponsors: Bart Verbeek, Cynical Brit, Matt (aka Antidragon), Michael Beauchamp, Wesley "Bahamut" Cho.. + hundreds of supporters! Thanks!!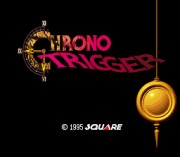 It's Shnabubula, okay? So it's kinda just awesome by default. If you still haven't checked out his NES JAMS album from last year, well, you really, really should. This piano & strings arrangement brilliantly blends several Chrono Trigger sources with FF5's 'Clash on the Big Bridge' aka Gilgamesh. It was his entry for the 2011 (!!) MAGFest DoD, but he requested that we hold onto it and post some other stuff sooner, so it's finally seeing the light of day here on OCR. Sam writes:
"This is both my second arrangment utilizing a string quartet and second time covering the main theme of Chrono Trigger... so it's like a DOUBLE RETREAD...but I tried to approach both things in a different enough manner so as not to just be completely repeating myself. Enjoy!"
Beautiful, super-expressive strings are a highlight just as they were on 'Thorazine' and the dynamics & interplay between them and the piano part is dramatic & striking. Sam injects some jazz into the piano while maintaining a more classical aesthetic overall - this is one of the more successful fusions of those two genres I can think of on the site, the repeated riff @ 2'43" being one small example. The conclusion spirals beautifully into complex piano runs, and I love how the mixture of articulations on the string parts lets them participate in the overall dynamic - this is the type of arrangement, quite specifically, that wouldn't work with JUST legato or JUST staccato, or with less attention paid to each specific line. It might be an obvious point to make, but it's the sheer craftsmanship that really lets the collaboration between the impressive piano performance and the string accompaniment breath & live. As for the mix title, think breakfast cereal & Chapelle/Rock and try to appreciate the punnery. If I had to nitpick, I wasn't crazy about that initial transition at 1'19", but that's kinda like complaining about the glove compartment on a Rolls. These aren't easy sources to make as cogent & sensical an arrangement of as the artist has, and since it's superbly executed and at times breathtaking as well, I think slack can be cut far more abundantly than would ever be needed. Excellent.
Ardus
on 2013-01-16 11:37:55
Crulex
on 2013-01-15 10:01:35
ambient
on 2013-01-10 17:26:21
nobodygetshurt
on 2013-01-10 06:57:42
Brandon Strader
on 2013-01-09 00:08:07
hikaricm
on 2013-01-08 01:27:11
Nase
on 2013-01-08 01:22:57
XPRTNovice
on 2013-01-07 18:09:17
Kuolema
on 2013-01-07 17:38:15
WesternZypher
on 2013-01-07 16:39:00
XPRTNovice
on 2013-01-07 15:12:45
djpretzel
on 2013-01-07 14:49:36