Album:

Trenches Original Soundtrack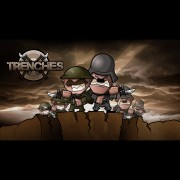 References

Download Torrent
More torrents at http://bt.ocremix.org.

Discussion:
Latest 5 comments/reviews; view the
complete thread
or
post your own
.
Some of your most melodically accessible work, dude. I hope it leads to a lot more work for you! :-)
- OA on August 3, 2010
It is VERY short but I really enjoyed it. I think you did a really great job on the music and the conceptual stuff behind the music, such as the titles, and the choice of instrumentation. Congrats, dude!
- Brandon Strader on August 1, 2010
Big awesome congratulations to Abadoss for this achievement. While the soundtrack is short, it contains a deceptive amount of complexity. Definitely give it your attention, it's worth it!
- Level 99 on July 29, 2010
I saw you added it to VGMdb a few days ago, but this is cool to see OCR's second original sountrack! (Or maybe third with SF2HDR)
Congrats to Abadoss for his greatwork! =)
- Chernabogue on July 29, 2010
Trenches Original Soundtrack [OCRO-0002]
[*]Trenches developed by Thunder Game Works (
http://thundergameworks.com
) for the iPhone
[*]Track 1 composed and produced by Troy Keyn, additional orchestration by Kenneth Keyn (a.k.a. Abadoss)
[*]Tracks 2-9 composed and produced by Kenneth Keyn, additional instrumentation and performance by Troy Keyn
[*]Contact: [email]abadoss@yahoo.com[/email]
Composer's comments:
Trenches brings together music reminiscent of the European nationalist composers - prevalent in the years leading up to World War I - with electric guitars and modern percussion. My brother, Troy Keyn, was initially approached about composing the soundtrack on Trenches on his own. Troy decided to bring me into the project because of my experience with orchestration and because it would be an incredible opportunity for me in my career pursuits. Michael Taylor, CEO of Thunder Game Works, charged us with the task of creating a soundtrack that would enhance the game, without sacrificing substantial and meaningful composition. I am responsible for the primary composition and orchestration on all tracks, except "Awaiting Orders" - which Troy composed - and "Promotion" - which is just a drumroll. Troy recorded the percussion and guitars and is responsible for the final sound production. I used Finale 2009 to compose each track and Garritan Personal Orchestra and Finale's built-in MIDI SoftSynth for the orchestral samples. Troy used Sonar for recording and final production.
"Awaiting Orders" -- Troy wanted to compose at least one piece on the soundtrack and chose to do the menu/title music. There are a couple versions of this track that Troy tried out - one sounding very much like something out of Pirates of the Caribbean. In the end, this version won out. I made a few orchestration changes to give it fuller sound, but this is ultimately Troy's track.
"Have at Thee!" -- This little intro plays every time you start a new game. The difficulty in writing this fanfare was avoiding anything cheesy or cliché. In addition, it's a fanfare of war, so I had to consider what might be heard on a battlefield and embellish it a bit. I decided to get in as much dissonance as I could to represent the cacophony of war. On the technical side, I had to process the track with Finale's MIDI SoftSynth, as Garritan was unable to adequately perform the quick articulations I had written.
"The Engine of War" -- This track took the longest time to develop out of all the tracks. I started out by first figuring out the main theme - roughly at 0:43. After that, I simply composed a ton of different sections that could be dropped or picked up and developed into the final track. The main trick was finding a balance between the repetitive nature of looping a track and wanting to have a recognizable theme.
"Dead of Night" -- Michael wanted the losing music to clearly let the player know they were in trouble. Troy and I decided that something dark and more frantic would be the best choice. I borrowed a section from the second movement of my first symphony as the basis for this piece. While I was reluctant to use it, the section worked too well to ignore it.
"Der Scharfschütze" -- I wanted this track to be as dark and heavy as I could get it to reflect utter defeat. I felt an organ would be best suited for the task. Just for fun, I wrote the organ part in the style of Johann Sebastian Bach to represent the Germans winning.
"Battle at Dawn" and "Victory at Dawn" -- Both pieces are based on the first and last sections - respectively - from a piece I wrote in October 2005, also called "Victory at Dawn", for the Thematic Original Music Competition. I played this piece for Michael, as a possibility for the winning and victorious music, uncertain if it would be a good idea since I wrote it with cavalry in mind at the time. He thought it was a perfect fit, so it's in the game.
"Iron Crosses" -- The credits proved challenging for me, as I only had 0:50 to work with - which I found out after I'd worked on a full version. Michael liked what I'd written, but it needed to be cut down significantly. After a number of edits, I was still barely too long. Troy had to find a spot where it wasn't jarring to cross-fade between two sections and make the cut before it came down below 0:50.
"Achievement" -- This track was surprisingly difficult for something so short. Michael wanted this fanfare to be simple and to avoid cluttering up the soundscape. I tried various number of horns, different chords, all sorts of different articulations, and rhythms before landing on the current version through a lot of trial and error. As with "Have at Thee!", this track was processed in Finale's MIDI SoftSynth. In this case, the trumpet samples just sounded better for some reason.
"Promotion" -- Yup. It's a drumroll.
My thanks to:
My brother, Troy Keyn, for giving me this opportunity and working with me on this project.
Michael Taylor, for putting together a fantastic game and believing in us.
Jennifer Cameron and Jim Day, for helping me find the tools and confidence that made this possible.
Larry "Liontamer" Oji, for encouraging me to release this as an EP and for putting up with my delays.
David "djpretzel" Lloyd, for creating and maintaining a community that I am proud to belong to.
zircon, bLiNd, DarkeSword, Mazedude, OA, Level 99, audio fidelity, and Josh Whelchel for even considering the crazy request that I made of you, let alone actually attempting to pull it off. You guys are awesome, fantastic people.
And everyone at OverClocked ReMix, for being damn cool...
P.S. - I do accept commissions. :P
Kenneth Edward Keyn
[email]abadoss@yahoo.com[/email]
http://abadoss.net
Thunder Game Works:
http://thundergameworks.com
http://www.facebook.com/pages/Thunder-Game-Works/100686873319234
http://twitter.com/thundergamewrks
- Liontamer on July 29, 2010