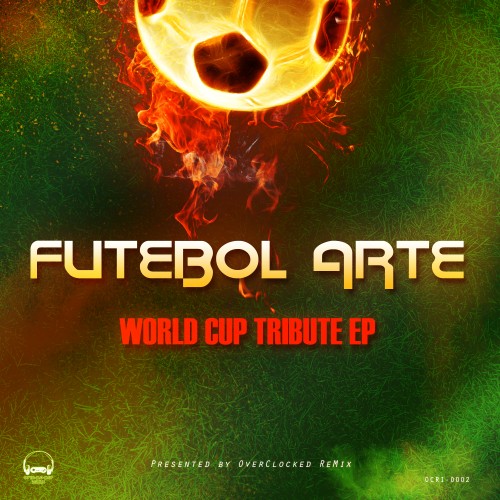 Album:

Futebol Arte: World Cup Tribute EP
A free
arrange

album, published by OverClocked ReMix on 2014-06-30
Disc 1
| | |
| --- | --- |
| 1. Playing in the Park (Demo) | 3:00 |
| 2. Ball of Steel (Road to the Striker Cup) | 3:47 |
| 3. Looking Towards the Future (Highlights) | 3:23 |
| 4. Hope Never Walks Alone (Rock Field, Wood Field, Cut Field, Skull Field, Pharaoh Field, Danger, Wily Field, Needle Field, Title) | 8:30 |
| 5. Spotlights (Time to Shine) [Ice Rink, Staff Roll] | 4:13 |
| 6. The Champion (Ending) | 3:57 |
| 7. Legendary (The Legendary Inazuma Eleven) | 4:04 |
Credits
Arrangers
Composers
Artwork
Gario
on 2014-07-03 23:38:36
Great timing for a great album - everything in this one is solid. I hope plenty of people check this one out!
jnWake
on 2014-06-30 19:59:52
Awesome! I'm listening to the tracks now and it's pretty cool, especially considering how fast it was made.
TillyFun
on 2014-06-30 17:01:26
Ahhh you guys!

Between this and the Dodge Ball albums, I'm going to finally have to make a Sports music folder. My geek cred will hurt. XD
This is awesome.

Chernabogue
on 2014-06-30 16:40:46
Awesome! Great job to Ivan and to the team! I'm happy I've been able to help!

Mirby
on 2014-06-30 16:36:22
keep the ball rolling
What you did there
I see it.
Ivan Hakštok
on 2014-06-30 14:51:00
Aawwwwwyeaaaaaaah it's out! I'd like again to thank everyone who contributed! And who knows, we may do another one for the next World Cup in 4 years.

I hope listeners will enjoy it, keep the ball rolling and keep the world full of music!

Liontamer
on 2014-06-30 11:39:12
Ivan Hakštok said:

Ohayoooo, I'm Ivan Hakštok and I'm the one behind directing this miserable little pile of ReMixes. Or maybe an awesome little pile of ReMixes? I'll let the listeners decide.

I don't remember exactly when I first had the idea for this album, but I need to thank DarkeSword who kept insisting I direct it (which was probably just a ploy for him to get some Mega Man Soccer remixes, oh, sneaky you). As a big fan of football/soccer/fussball/futebol/nogomet/whatever-you-call-it, I thought it would be nice to pay a musical tribute to the 2014 World Cup in Brazil. Football/soccer games are a bit underrepresented as far as remixing is concerned, even though they have lots of really good soundtracks, and I hope this album will help remedy that a bit.

This album features seven tracks and seven artists, maybe not enough to fit a football team of eleven players, but enough to rock. I'll also add that I had no idea that the titles of the songs would make it so easy for me to put them in an order which describes a road to the top of the world: from playing around in the park to achieving a legendary status. I hope you enjoy it!

- Ivan Hakštok
Content Policy
(Submission Agreement and Terms of Use)
Page generated Sun, 25 Jun 2017 23:36:31 +0000 in 1.2925 seconds
All compositions, arrangements, images, and trademarks are copyright their respective owners. Original content is copyright OverClocked ReMix, LLC. For information on RSS and JavaScript news feeds, linking to us, etc. please refer to resources for webmasters. Please refer to the Info section of the site and the FAQ available there for information about the site's history, features, and policies. Contact David W. Lloyd (djpretzel), webmaster, with feedback or questions not answered there.