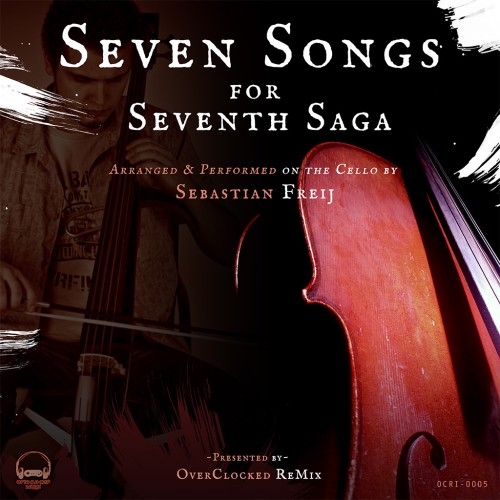 Album:

Seven Songs for Seventh Saga
A free
arrange

album, published by OverClocked ReMix on 2015-03-02
Featuring the music of...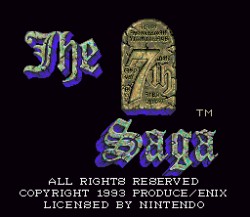 Disc 1
| | |
| --- | --- |
| 1. Seven Songs for Seventh Saga: I. Wind | 2:03 |
| 2. Seven Songs for Seventh Saga: II. Water | 2:40 |
| 3. Seven Songs for Seventh Saga: III. Star | 2:50 |
| 4. Seven Songs for Seventh Saga: IV. Sky | 3:10 |
| 5. Seven Songs for Seventh Saga: V. Moon | 2:33 |
| 6. Seven Songs for Seventh Saga: VI. Light | 2:27 |
| 7. Seven Songs for Seventh Saga: VII. Wizard | 2:17 |
Credits
Directors
Arrangers
Composers
bluelighter
on 2015-03-20 07:48:25
Really good surprise

The style was unexpected for on OCR album and I love this. I'm not familiar with the original songs, but I like this interpretation. Great performance !
FenixDown
on 2015-03-04 21:53:47
Just finished going through all seven videos on YouTube. Excellent performances Sebastian! My only exposure to 7th Saga was listening to a couple tracks from the OST as I was scouting for sources to use in the rRPC last summer, but my overall lack of association to the game or its original music did nothing to detract from my enjoyment of these arrangements. Truly fantastic.
Brandon Strader
on 2015-03-04 05:44:31
The reverb used on the "bassline" cellos seem overbearing and undetailed, I would have pulled that back a bit, but nobody can deny these arrangements are high class and a fresh of breath air. Nice work.
CyberSkull
on 2015-03-03 21:49:16
It has been so long since I played the game. I think I played as the robot/golem. I never got far in the rental.
I've added both versions (audio video) to MusicBrainz.
Chimpazilla
on 2015-03-03 12:33:44
I have no words, these are so wonderful. The playing is so impressive and the videos are completely mesmerizing, I love watching the music scroll by and seeing the 16th-note passages or melody/countermelody sections coming up. Really phenomenal stuff here!
Chernabogue
on 2015-03-03 04:18:20
Not familiar at all with the original soundtrack, the first remixes blew my mind.
Also, the videos with the sheet look incredible. I'm put to shame lol
timaeus222
on 2015-03-03 04:14:28
Very nice job! I love those videos! Neat touch with the sheet music, Jose, and great playing, Seb.

BONKERS
on 2015-03-03 04:12:55
OH MAH LAWD.
7th Saga had and incredible soundtrack!


This is wonderful
DragonAvenger
on 2015-03-02 21:58:33
I thought this game was a gem in regards to music as well, not as much the game itself

Loved Sebastian's playing here! He plays with a lovely amount of emotion, and having the sheet music to follow along was a wonderful touch. Great job to all involved.
butalearner
on 2015-03-02 21:22:55
Ye gods, I love the sound of cello. From the very first draw of the bow across the strings, it stirs something within me...a promise of epic, fantastic adventure. It almost feels like nostalgia, like it compresses all my cherished memories of playing RPGs and reading epic fantasy into not-nearly-enough minutes.
Beautiful, good sir, just beautiful.
Liontamer
on 2015-03-02 17:09:59
YAY! Journey The Banner Saga's Austin Wintory is digging it! THANKS, AUSTIN! Way to go, Seb!

https://twitter.com/awintory/status/572517396407177216
@ocremix @Freijman Wow that was terrific! Loved the video! Really genuinely inspired...
Black_Doom
on 2015-03-02 15:16:19
This album made my day. It's so beautiful. Thank you, Mr. Freij!
Liontamer
on 2015-03-02 02:47:53
My first contact with the game 7th Saga was a cold winter day. I think I was about 14 years old and was sick home from school. I borrowed it from a friend that said that this was a hard game that would keep me busy. His words were true. Too true, in matter of fact. Die, level up, try again, continue, die, level up, try again were the steps I remember. I think I got to the 5th rune or something… then I gave up. I got well from the sickness and tried easier games and forgot about The 7th Saga. A few years later, I found it again and thought I would give it another try, but failed to finish the game even this time.
One thing I do remember is the very cool melodies from the game that really got to me. Norihiko Yamanuki wrote the music and as far as I know, 7th Saga is the only game he's written music for. The question pops up in my head from time to time: Why did he stop? I think many of the tracks have a classical touch and very interesting harmonies.
Like many VGM fans, I'm very fond of music from RPG's like Final Fantasy, Breath of Fire, Lufia and the list goes on... but for making a project as this, I wanted to choose something that hasn't been covered as much.
As I currently work as a substitute cello teacher, I wanted to create a video that could inspire you as a cellist or just a music lover as well by being able to follow the progression of the piece both visually and audibly. It's a video that you can watch over and over again and choose freely what part you want to focus on as a listener or a fellow cellist.
I've done a few prototypes of this kind of video before. "Sky" was made a little less than 2 years ago and posted on my YouTube channel: http://youtu.be/YRHBPz5X9Iw
The idea of adding sheet music synced to the BPM (beats per minute) came up and I made the first video with an arrangement for three cellos of some tunes from Secret of Mana. I didn't get as much response as I hoped, but I was still satisfied with the result and the core purpose of it: http://youtu.be/XbJI_hSvDlo
My goal with this project:
• To inspire other musicians to play more video game music
• A tribute to the music of 7th Saga written by Norihiko Yamanuki
• A play along video solution
• Keep studying the musical possibilities with music written for three cellos
It's been a great journey to work on this project and I hope to do a similar project in the future! Big thanks to the OC ReMix crew for being supportive with helping out with art, homepage, and everything necessary to make it happen! (All the names that's been involved.)
- Sebastian Freij
Content Policy
(Submission Agreement and Terms of Use)
Page generated Mon, 26 Jun 2017 03:02:44 +0000 in 1.2581 seconds
All compositions, arrangements, images, and trademarks are copyright their respective owners. Original content is copyright OverClocked ReMix, LLC. For information on RSS and JavaScript news feeds, linking to us, etc. please refer to resources for webmasters. Please refer to the Info section of the site and the FAQ available there for information about the site's history, features, and policies. Contact David W. Lloyd (djpretzel), webmaster, with feedback or questions not answered there.