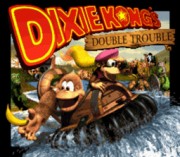 Composers

David Wise
デビッド・ワイズ

Eveline Novakovic
イーブン・フィッシャー

Donkey Kong Country 3: Dixie Kong's Double Trouble!
(スーパードンキーコング3)
Published 1996 by
Nintendo
for
SNES

Download Chiptune
307.8KB
File: donkey-kong-country-3-dixie-kongs-double-trouble-snes-[SPC-ID6323].rsn
MD5: 1c22401b80f221ebd0af0e0739fda313
Format: SPC (RAR)
Extracted Info: Donkey Kong Country 3 | Eveline Fischer |

Play chiptunes in 40+ formats with the free Chipamp Plugin Bundle, available at www.chipamp.org. The combination of Winamp and Chipamp is one of the easiest ways to get up and running, playing chiptunes and other game audio formats in no time at all.
Download Chipamp today, and don't worry about tracking down the right plugin - we did the work for you.
Chiptune Contents
This chiptune archive contains the following subfiles/songs:
| | |
| --- | --- |
| 1. | Fanfare |
| 2. | Dixie Beat |
| 3. | Crazy Calypso |
| 4. | Northern Kremisphere |
| 5. | Submap Shuffle |
| 6. | Stilt Village |
| 7. | Mill Fever |
| 8. | Jangle Bells |
| 9. | Frosty Frolics |
| 10. | Boss Boogie |
| 11. | Treetop Tumble |
| 12. | Hot Pursuit |
| 13. | Enchanted Riverbank |
| 14. | Water World |
| 15. | Cascade Capers |
| 16. | Nuts and Bolts |
| 17. | Pokey Pipes |
| 18. | Rockface Rumble |
| 19. | Cavern Caprice |
| 20. | Jungle Jitter |
| 21. | Krematoa Koncerto |
| 22. | Rocket Run |
| 23. | Crystal Chasm |
| 24. | Big Boss Blues |
| 25. | Mama Bird |
| 26. | Chase |
| 27. | Baddies on Parade |
| 28. | Game Over |
| 29. | Bonus Time! |
| 30. | Bonus Win! |
| 31. | Bonus Lose... |
| 32. | Hangin' at Funky's |
| 33. | Wrinkly's Save Cave |
| 34. | Get Fit A-Go-Go |
| 35. | Wrinkly 64 |
| 36. | Brothers Bear |
| 37. | Brothers Bear Blues |
| 38. | Swanky's Sideshow |
| 39. | Cranky's Showdown |
| 40. | Showdown Win! |
| 41. | Showdown Lose... |
| 42. | Lose Life (Village) |
| 43. | Lose Life (Mill) |
| 44. | Lose Life (Snow) |
| 45. | Lose Life (Boss Battle) |
| 46. | Lose Life (Trees) |
| 47. | Lose Life (Chase) |
| 48. | Lose Life (River) |
| 49. | Lose Life (Underwater) |
| 50. | Lose Life (Waterfall) |
| 51. | Lose Life (Factory) |
| 52. | Lose Life (Pipes) |
| 53. | Lose Life (Mountain) |
| 54. | Lose Life (Caves) |
| 55. | Lose Life (Jungle) |
| 56. | Lose Life (Rocket) |
| 57. | Lose Life (Big Boss) |
| 58. | Lose Life (Christmas) |
| 59. | Stage Clear (Village) |
| 60. | Stage Clear (Mill) |
| 61. | Stage Clear (Snow) |
| 62. | Stage Clear (Boss Battle) |
| 63. | Stage Clear (Trees) |
| 64. | Stage Clear (Chase) |
| 65. | Stage Clear (River) |
| 66. | Stage Clear (Underwater) |
| 67. | Stage Clear (Waterfall) |
| 68. | Stage Clear (Factory) |
| 69. | Stage Clear (Pipes) |
| 70. | Stage Clear (Mountain) |
| 71. | Stage Clear (Caves) |
| 72. | Stage Clear (Jungle) |
| 73. | Stage Clear (Rocket) |
| 74. | Stage Clear (Big Boss) |
| 75. | Stage Clear (Christmas) |
| 76. | Banana Bird! |