ANNUAL FUNDRAISER!! Help us take OCR to the next level by supporting us on
Sponsors: Bart Verbeek, Cynical Brit, Dave Oshry, From the Mind of Klink, Matt (aka Antidragon), Michael Beauchamp, TFBgaming, VinnyMac, Wesley "Bahamut" Cho... + hundreds of supporters! Thanks!!

Download MP3
2,449,408 bytes, 2:29, 128kbps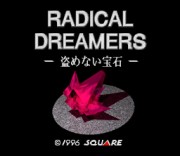 Part of the great Radical Dreamers 'Far Promise' ReMix flood of April 21st, 2001. As Mr. Matthews points out in his ID3 tag 'This is a Real steinway Sir' - this is acoustic piano and nothin' but, a good counterpart to Prozax's intonation for the more solo-minded 'Far Promise' afficionado. The recording ain't perfect, but the arrangement damn near is - excellent dynamics, lots of emotion, and great fingerwork on some of the ornamentation that's been added in. I'm on a deadline now so I can't write any more, trying to get these all up by midnight - a good one!