ANNUAL FUNDRAISER!! Help us take OCR to the next level by supporting us on
Sponsors: Bart Verbeek, Cynical Brit, Dave Oshry, From the Mind of Klink, Matt (aka Antidragon), Michael Beauchamp, TFBgaming, VinnyMac, Wesley "Bahamut" Cho... + hundreds of supporters! Thanks!!

Download MP3
6,956,394 bytes, 4:13, 218kbps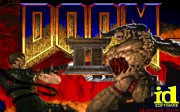 Mazedude truly surprises with this balls-to-the-wall Doom 2 ReMix that is much heavier and more aggressive than his previous (though no less impressive) submissions. From the nice use of game samples to the in-your-face pitch-bendin' slap-bass-o-death doubled with a synth bass at points to the extensive dsp that goes above and beyond the call of freaky (truly masterful work in the special effects arena . . . you'll see). Judges were pretty unanimous in their opinion that this was some good gibbing mixage that is both imaginative and fun. Fans of industrial music or - heck - just plain GOOD music shouldn't hesitate. Not much else to say here, other than commending Mazedude on a mix that he obviously spent a lot of time tweaking to perfection (both arrangement and effects) and that branches off into new genre territory relative to his other tracks. Highly recommended.