ANNUAL FUNDRAISER!! Help us take OCR to the next level by supporting us on
Sponsors: Bart Verbeek, Cynical Brit, Dave Oshry, From the Mind of Klink, Matt (aka Antidragon), Michael Beauchamp, TFBgaming, VinnyMac, Wesley "Bahamut" Cho... + hundreds of supporters! Thanks!!

Download MP3
1,776,616 bytes, 2:02, 112kbps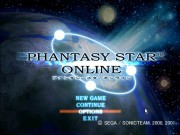 Though this is his first ReMix posted here on OCR, Quinn Fox has been mixing game music for awhile now - do check out his site and the other great stuff he has to offer, including several originals. Our first piece from Phantasy Star Online (can you believe it's being ported to the Gamecube? I'm all for cross-platform friendliness but something about Phantasy Star on a Nintendo console gives me the oogies something fierce), this is a short take on the lobby music, breakbeat style, with extensive audio mutations. Layering evolving synth textures on top of breakbeats that are themselves layered, panned, filtered, and otherwise tinkered with, the piece has a very spacious feel to it, never really establishing a central motif but instead acting as a sonic changeling, morphing several times in an ambient beat-sleepwalk, then fading out. I won't over-exaggerate - there is a melody, a bassline, clearly distinguishable musical passages, etc., but Quinn has phased them in and out and surrounded them with clouds of clustered pads and very organic rhythms such that the whole piece sort of breathes - exhales. Very impressionistic, unique, and definitely recommended.