ANNUAL FUNDRAISER!! Help us take OCR to the next level by supporting us on
Sponsors: Bart Verbeek, Cynical Brit, Dave Oshry, From the Mind of Klink, Matt (aka Antidragon), Michael Beauchamp, TFBgaming, VinnyMac, Wesley "Bahamut" Cho... + hundreds of supporters! Thanks!!

Download MP3
6,801,695 bytes, 3:55, 230kbps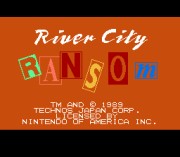 Oh my, my, my . . . Mazedude drops an industrial bombtrack on us all with this heavy-hitting River City Ransom ReMix of power. This is just some formidable shit - ain't no other way of sayin' it. I'm impressed - it's above the level of even the high mark Mazedude sets for himself, at least in terms of raw energy and sonic muscle. Fans of Rammstein (i.e. "Du Hast" and what not), your mix has arrived. Fans of River City Ransom, don't wait another second. In fact, fans of music in general - this piece comes highly recommended. It's got a sound comparable to both Rammstein and KMFDM, mixing heavy guitars, shred-style programming, ear-bleeding beats, and just an overall weight and presence that dictates attention and respect. Guitars, numerous synths, a great wah-wah lead, panned+filtered synths - this piece would serve as a great textbook example of techno-industrial done well. Saying much more would be pointless - Mazedude sets a high benchmark with this impressive RCR action, and has created a ReMix that I have to guess many were waiting for in terms of genre and execution. All time greats material? You bet. Highly, highly recommended.