ANNUAL FUNDRAISER!! Help us take OCR to the next level by supporting us on
Sponsors: Bart Verbeek, Cynical Brit, Dave Oshry, From the Mind of Klink, Matt (aka Antidragon), Michael Beauchamp, TFBgaming, VinnyMac, Wesley "Bahamut" Cho... + hundreds of supporters! Thanks!!

Download MP3
5,840,391 bytes, 3:26, 224kbps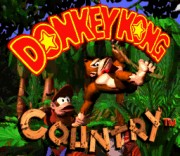 This is a ReMix that I shouldn't have made. Not for any musical reasons, but simply because I already had a different mix in mind for a long time and I've been really busy and this cut into my schedule in numerous ways. But I saw the ReQuest on our forums, and it occurred to me that this is a cool piece that should have been covered by now. Furthermore, I'd been listening to several versions of the Charleston by Spike Jones, Jelly Roll Morton, etc., and thought it would be fun to try to incorporate some of that style into a ReMix. Also, I just hooked my Motif up via SPDIF instead of 1/4th analog, and wanted to test it out. Thus I chose a particularly saucy upright bass in Gigastudio, some brass swells as well, and put together some drums, organ, jazz guitar, flute, vibes, piano, two synth pads, and a wah-wah electric piano on the Motif. That's quite a few different instruments to blend into one piece, but I think it's passable. This is jazz coverage of the first-level music in Donkey Kong Country, with some big band thrown in. The bass is definitely the foundation, though sometimes a low piano doubles it for that old-time pomp feel. Most of the times it's melodic and fairly close to the original spec, but towards the end it switches over to a walking pattern instead. The first time the melody comes in, on the wah EP (which Yamaha suggests should be used in jazz fusion contexts - whoops), the chords underneath don't change and are a little more complex. Then there's the "big whoopy" section as I like to call it, after which the organ comes in and the chords do change. By downloading this, you make a pact to play it loudly and on speakers, not headphones :) (I've found it works much better that way). Doesn't sound like too much else on the site, largely due to how the brass is used+abused. Pretty short, but doesn't repeat identical portions. Hope you dig.