ANNUAL FUNDRAISER!! Help us take OCR to the next level by supporting us on
Sponsors: Bart Verbeek, Cynical Brit, Dave Oshry, From the Mind of Klink, Matt (aka Antidragon), Michael Beauchamp, TFBgaming, VinnyMac, Wesley "Bahamut" Cho... + hundreds of supporters! Thanks!!

Download MP3
3,721,216 bytes, 3:48, 128kbps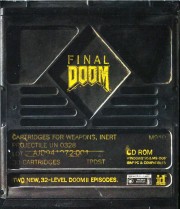 Dj Redlight's previous, initial submission, also from Final Doom, accomplished a couple things. In addition to being a kickass mix, it also opened my eyes up to the Final Doom soundtrack, which is distinctly different than other Doom soundtracks in tone, and has a multitude of styles and a good deal of substance as well. His second submission is not as agrressive but continues exploring more of this game's music, in this case the intermissions (stats) tunage. As the title correctly suggests, this is more somber fare, with slow piano arpeggios and distant strings introing as a cymball roll introduces minimal percussion. At half a minute a military orchestral snare and dancing short ensemble string patterns come in, and soon after a synth and gated distorted guitar are also subtly layered on. Redlight has a good feel for having the addition and subtraction of elements happen without the listener necessarily picking up on it, i.e. smoothly and very naturally. Though some additional harmony and counter-melody come in towards the end, which finishes off with a nice ritard and sustained strings, the core arpeggio persists throughout the vast majority of the song; there's something of a guitar solo circa 2'17", however, that helps shift focus and extend the life of the fairly minimal source material to the near four-minute mark. Though not quite as slick and energized as his previous FD submission, this ReMix again embellishes a rather sparse original and draws out the better aspects of its melody and structure while also adding some embellishments. Not "happy" music and not something you'll want to play at a party, this is deliberate, almost funerial in tone, and has an effective sense of loss and closure.