ReMix:

Sonic CD 'Time Traveller's Delight'
ANNUAL FUNDRAISER!! Help us take OCR to the next level by supporting us on
Sponsors: Bart Verbeek, Cynical Brit, Matt (aka Antidragon), Michael Beauchamp, Wesley "Bahamut" Cho.. + hundreds of supporters! Thanks!!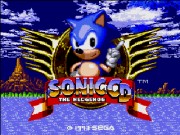 AWESOME mix to start the week off... today marks the 20th anniversary of Sonic CD's release in Japan, and we've got a fantastic hip-hop opus preview mix from our upcoming Sonic CD album, Temporal Duality, to help celebrate! The album will be coming out this year, and will feature ReMixes of BOTH the Japanese AND American soundtracks to the game, BOTH of which are amazing in their own right! This is (somewhat surprisingly) the first Sonic CD mix we've posted in over ten years, and it's an epic rap battle between several familiar OCR faces and some new blood, too, collectively known as "OverClocked Assembled"; album director & member SuperiorX (Matt Keller) writes:
"Greetings, OCR! OverClocked Assembled presents "Time Traveller's Delight," a remix of Stardust Speedway JP/EU (Sonic CD). The track will be featured on the Sonic CD: Temporal Duality album. It's being posted on September 23rd, 2013 to coincide with the 20th anniversary of the Sonic CD Japanese launch date, and to serve as a little preview for the album, which will be releasing sometime after that.

We are creating a VGM hip-hop collective under the banner of OverClocked Assembled that will have rotating/guest members. Not every member will always participate in each OverClocked Assembled song, and new members will be added in the future.

OverClocked Assembled:

Jordan Etienne (Sir Jordanius): arrangement, guitars, backing trumpet, funk vocals
Paul Ford (metaphist): vocals - verse 1
Kary Brown (begoma): vocals - verse 2
Niyazi Sonmez (DiGi Valentine): vocals - verse 3
Joseph Guthrie (The Auracle): vocals - verse 4
Dominic Malloy (BrothaDom): hype/backing vocals
Matt Keller (SuperiorX): lead keys, electric piano
Adam Prack (C7): lead trumpet"
If you're like me, and I know I am, this is all sorts of great news.... Sonic CD album covering BOTH regional soundtracks PLUS a hip-hop collective featuring some amazing artists in their own right? HELL yes!! So this ReMix is badass, and I would normally have a LOT to say about just HOW badass it is, but the team provided a wealth of comments (check the ID3 tags of the MP3 for the full breakdown!) and I have to defer to them; arranger Sir Jordanius writes:
"When Matt first contacted me about a proposed mega-collab for "Stardust Speedway," I actually went through every internal excuse I could think of to try and shy away from it: I have a preference for not arranging songs that are already phenomenal IMO; due to past experience with band-mates, I'm a bit cautious about huge team efforts; I've recently been on a looooong-ass personal hiatus from rap, so I was unsure about my hip hop Killer Studio Chops, etc.

But I've been talking to BrothaDom and a few other forum members about getting something like this set up, and when Matt showed me selected works from each member, I was blown away. This opportunity was bound to happen, and I couldn't just pass the chance to make something so catalytic with such a group as this.

Besides the obvious title, there are several allusions to hip hop historical influences mixed in with the Sonic metaphors of coming together regardless of differences. So, since I'm not a copy-paste kind of beatsmith, I wanted to make sure that everybody's section had a slightly unique flavor that would smoothly lead into the next section (basically like a timeline or traveling expedition). Getting Adam on board for that extra, yet much-needed "hell yeah" feeling was pretty much a no-brainer after hearing his and Matt's sick SZRC collab, and the rest of the track is history; so if you've enjoyed this collaborative effort, I believe we can assure you that this is just the tip of the iceberg of some very interesting things happening on Temporal Duality, as well as the rest of OCR in general! We're makin' a Good Future up in this bizzzznitch!!"
Jordan is brilliant; hearing his latest stuff, while continuing to appreciate the variety of his previous mixes, has really illuminated for me just how much he's got going on. This track is such a perfectly simultaneous homage to Sonic CD & hip-hop itself that it blows my mind; as a preview track for the full album, well, this is almost like its OWN mini-album in terms of vision & scope, representing a ton of talent all working together to create something magnificent. Of this specific track, Matt writes:
""Stardust Speedway" (JP) is easily my favorite source across the Sonic CD OST, so I knew whoever ended up claiming the source was going to have to blow me away with an idea for their remix. Early on in the project, DiGi Valentine, Kary Brown (begoma), and BrothaDom each individually contacted me with ideas for remixing "Stardust Speedway" in a funky hip hop or R&B style. I immediately noticed the potential there for something great. The entire Sonic CD OST (particularly the JP/EU version) just oozes 90's musical influences and already incorporated a lot of vocal elements into many of the sources, so I thought how awesome it would be to make a truly old-school collaborative hip hop mix that sounded like it came right out of the early 90's. I really wanted someone who could nail that funky hip hop sound to arrange the mix, so I contacted Sir Jordanius and laid out the details for the song and the interested parties. Much to my delight, he was fully on board. During the process, we brought in metaphist and The Auracle to round out our lead vocalists (alongside DiGi Valentine and Kary Brown), who each contributed truly amazing verses for the song. BrothaDom and Jordan then both contributed some additional background vocals to fill out the mix. We also brought in Adam (C7), whom I had the pleasure of working with in the past, to lay down some trumpet parts which I think really added a whole other level of realism and awesomeness to the mix. Jordan also laid down the guitar and backing trumpet parts and I wrote the piano parts for the instrumental breakdown towards the end, to make this truly an epic collaborative effort.

I could not be happier with how this turned out and I can't wait to work with these fine gentlemen again sometime in the future! So turn it up and get down! OVERCLOCKED ASSEMBLED!!!"
I think it's safe to say that 2013 is OCR's BEST YEAR EVAR for hip-hop; 'spirit of law' comes to mind, 'Solace' was superb, and in addition to his contribution on this track, metaphist also had 'Wisdom Courage Power' - that's at least three GREAT hip-hop/rap mixes right there, and this quite definitively makes four. I am beyond psyched for this album, but this track ALONE still makes my day and then some, offering a fantastic way to ring in & jam out for the 20th anniversary of Sonic CD! Be on the lookout for Temporal Duality, and send massive props to Jordanius, SuperiorX, & the rest of OverClocked Assembled for creating an unforgettable ReMix!