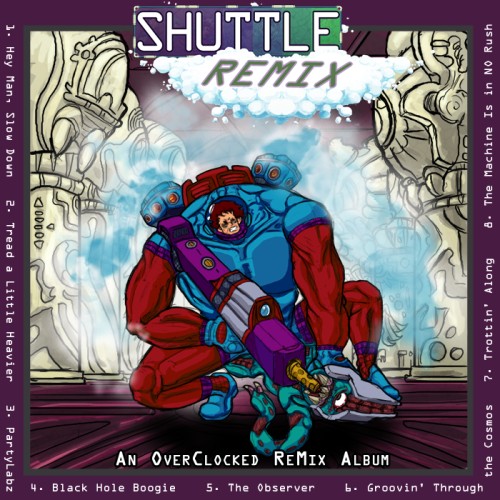 Album:

Shuttle Remix
A free
arrange

album, published by OverClocked ReMix on 2014-11-06
Featuring the music of...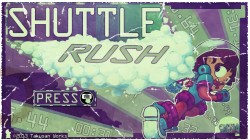 Disc 1
| | |
| --- | --- |
| 1. Hey Man, Slow Down (Shuttle Rush) | 3:44 |
| 2. Tread a Little Heavier (Tread Heavy) | 3:02 |
| 3. PartyLabz (JoLabz) | 4:33 |
| 4. Black Hole Boogie (Space Jungle) | 3:39 |
| 5. The Observer (Observate) | 5:19 |
| 6. Groovin' Through the Cosmos (Galactic Groove) | 3:06 |
| 7. Trottin' Along (Main Jam) | 3:32 |
| 8. The Machine Is in NO Rush (Rush for Your Life, Race Against the Machine) | 1:58 |
Discussion
Latest 2 comments/reviews; view the
complete thread
or
post your own
.
---

nitrozsz
on 2015-12-31 21:45:21
---
General Overview:
I love how this album can range from groovy and fast paced to relaxing while being able to retain its groove. It's good enough to listen to from beginning to end. Yeah some tracks are better than others, but no track on this album is bad. If you're looking for an electronic groove that both relaxes you and motivates you, download this album.
Album Strengths (AKA Personal Favs):
Track 3: PartyLabz (JoLabz) by Kubbi
From 0:00 to 0:47, the music progressively builds towards an intergalactic trip through a futuristic highway. Very fun track, would love to blast this during a night drive in the middle of a city.
Track 5: The Observer (Observate) by Phonetic Hero
The piano work which compliments the electronic work really sold me on this track. Like I said in the original review, a great balance of electronic and orchestrated music.
Track 6: Groovin' Through the Cosmos (Galactic Groove) by Amphibious
The title is very accurate to what you get out of this track. I even like the "glitches" thrown in. Almost seems like the cosmos are trying to interfere with the groove. Love the beat, love the melody, love it all.
DaMonz
on 2014-11-08 08:51:51
---
DaMonz said:

Shuttle Rush is the first game that I developed with my team, Takusan Works, and Shuttle Remix reinvents the game's whole original soundtrack.

This album was made by an amazing OverClocked ReMix strike team. They all did an outstanding job at reworking the game's music into something entirely different. Every arrangement is enjoyable in its own way, and brings a whole new set of colors to the soundtrack. In contrast with the somewhat hyperactive original music, most of these arrangements are relaxed and groovy, all in their own way. And even though the album might seem slightly short, it shows one of OverClocked ReMix's greatest strengths: diversity. Every ReMixer has their own style, and this album makes no exception. I am extremely grateful to every single one of them for their awesome work on this album, and I hope you will all have a great time listening to it!

- Emery Monzerol
Content Policy
(Submission Agreement and Terms of Use)
Page generated Sun, 04 Jun 2023 03:29:58 +0000 in 3.7145 seconds
All compositions, arrangements, images, and trademarks are copyright their respective owners. Original content is copyright OverClocked ReMix, LLC. For information on RSS and JavaScript news feeds, linking to us, etc. please refer to resources for webmasters. Please refer to the Info section of the site and the FAQ available there for information about the site's history, features, and policies. Contact David W. Lloyd (djpretzel), webmaster, with feedback or questions not answered there.