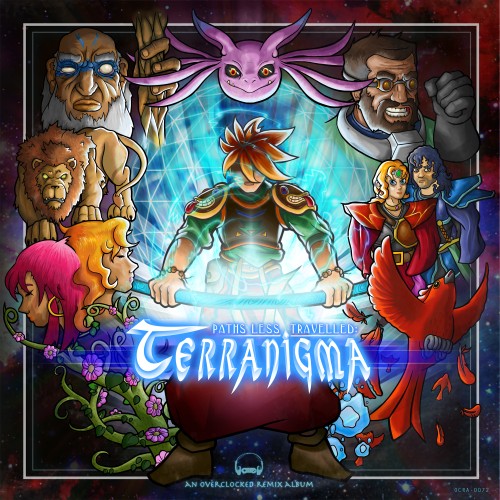 Album:

Paths Less Travelled: Terranigma
A free
arrange

album, published by OverClocked ReMix on 2019-12-19
Featuring the music of...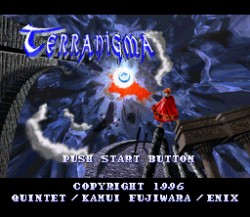 Disc 1
| | |
| --- | --- |
| 1. L&D (Light and Darkness) | 5:59 |
| 2. Find My Way (A Place to Return To) | 4:26 |
| 3. Blue Magic (Prime Blue) | 5:00 |
| 4. Her Resolve (Prayer) | 5:00 |
| 5. Yomi or Not Yomi (Yomi) | 3:00 |
| 6. Enigma of a Broken Soul (An Unforeseen Event) | 3:12 |
| 7. Beginning of the Journey (Departure) | 3:22 |
| 8. Destiny's Spire (Trials) | 4:57 |
| 9. Everlasting Campfire (Evergreen) | 4:09 |
| 10. Will We Meet Again? (Into the Door, Welcome Rain, Firm Steps Upon the Land) | 5:44 |
Disc 2
| | |
| --- | --- |
| 1. Nature's March (Zue) | 3:29 |
| 2. Looking Out for the Big Guy (The Willful Lion) | 4:09 |
| 3. Punch Drunk Beneath a Lazy Tree (Sanctuar) | 4:32 |
| 4. Brave New World (Further into the Wide World) | 4:44 |
| 5. An Afternoon in Clisson (Town) | 4:50 |
| 6. From the Depths of the Dungeon (Under the Ground of the Giant Tree) | 2:52 |
| 7. Soothing Rhythm (Liotto) | 3:45 |
| 8. Wade into the Changing Tide (Ship) | 5:21 |
| 9. Skaði, Fjallið Veiði Gyðja (The Sacred Summit) | 4:45 |
| 10. Trepidation (Those Who Stand in the Way) | 6:13 |
Disc 3
| | |
| --- | --- |
| 1. The Road to Lhasa (Lhasa) | 4:34 |
| 2. Espíritu Gitano (Quatro's) | 3:59 |
| 3. Protectress (Fyda) | 5:24 |
| 4. Royd Rage (Royd) | 6:05 |
| 5. An American Expanse (Freedom) | 4:17 |
| 6. Groovin' Like a '90s Kid (Perel) | 3:02 |
| 7. Walking Amidst Future (Neotokio) | 3:43 |
| 8. AHHH, the Zombies Ate John Carpenter! (Wandering Souls) | 2:34 |
| 9. Hypotheosis (Laboratory) | 4:44 |
| 10. Dark Gaia Appears (Overcoming Everything) | 3:33 |
| 11. Mother Earth (Bound by Faith) [The Way Home] | 4:56 |
Credits
Directors
Arrangers

Chimpazilla, Clément Panchout, DaMonz, David Kiraeth, djpretzel, Fredrik Häthén, Ganaé, HeavyViper, HoboKa, Jean Of mArc, jnWake, Jorito, LongBoxofChocolate, Manji, MrSubstitute, Nadzilla, Nostalvania, NyxTheShield, rebrained, Rozovian, Sbeast, Supercoolmike, That Headband Guy, Trev Wignall, Troyificus, zykO

Composers
Performers

Alex Hill, Andrew Steffen, Andrew Thompson, Atsumu, Bassoonify, Catboss., Catie Williams, Chromatic Apparatus, Damian Nguyen, dannymusic, DavidRussell323, Dean Nguyen, Denis Bluteau, Earth Kid, Gamer of the Winds, Gnegon Galek, Harpsona, HeavyViper, ilp0, Ivan Hakštok, JohnStacy, Jorito, JoyDreamer, Juan Medrano, Kain White, Lauren the Flute, LongBoxofChocolate, Manji, mkafie, Nadzilla, Nostalvania, Pavos, pingosimon, Richard Spencer, Sbeast, Sirenstar, Stahalamora, That Headband Guy, Travis Kindred, Trev Wignall, Tuberz McGee, zykO

Lyrics
Artwork
Audio Engineers
Discussion
Latest 3 comments/reviews; view the
complete thread
or
post your own
.
---

DeathlesSNESs
on 2020-02-05 07:04:10
---
Probably old news at this time, but just wanted to post here to send the congrats and thanks to all those involved on this amazing tribute album. Terranigma is not that kind of game you hear covers/remixes of everyday, yet you folks did the whole soundrack! Even the tracks that were of minor importance in the game are very well arranged and very appreciated the effort.

Many of the melodies from the game holds a special place in my heart as I remember playing this game when I was a kid, oftentimes getting stuck and resuming the game few months or years later, then getting stuck and trying again... and it was not until I was a teenager that I finally beat it.

You don't know how awesome it was to hear such melodies and themes in such a different way. Especially the most rock/metal-oriented tracks, since I'm a metalhead (that Dark Gaia Battle in metal sound so EPIC! And it seems the "band" formed by Jorito and Tuberz strikes again with an amazing remix full of metal but other things too), but all genres and styles are very well done (that massive collab with the overworld theme, for instance. And the cementery / ghost city, the several orchestrals with female chorus, the several jazzy arrangements... all is done very well!).

Thanks a lot for all the time and effort poured on this project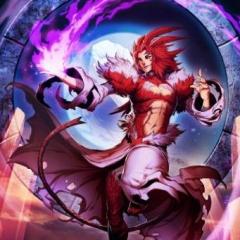 bluelighter
on 2019-12-22 13:06:21
---
This album is awesome ! A lot a jewels in its tracklist! I like this sunny atmosphere we can here on a lot of arrangements, that give the album its personality.
Apart a few tracks who less speak to me, all the album sounds great to me.
I've notably retained these tracks : Nature's March, Espíritu Gitano , Protectress , Groovin' Like a '90s Kid, Blue Magic
But it's difficult to make a selection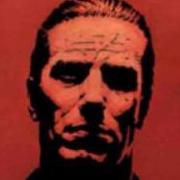 Liontamer
on 2019-12-18 23:01:14
---
I have to admit I never played Terranigma until near the end of the album production process, so I wasn't fully sure what all the hype and all the love was about. That didn't stop me from claiming my first 2 tracks ("Mountains" and "Crysta") in the first run of the project, and two more during the album restart. When checking out the OST, I noticed quickly that this was not your typical RPG music fare, but rather something interesting and different. After finally playing the game, the tracks, and their context, make a lot of sense, because they are all very well chosen and perfectly crafted for the occasion. The game is definitely worth a play, as one of the great SNES RPGs; if you haven't done so, do check it out.
While I was only active as a contributing artist in the first run, I was a bit sad to see the album project come to a halt. I was already playing with the idea to maybe pick up the pieces and try to help the project towards completion, but sadly I never found the time due to prior commitments and real life distractions. When Odai finally handed over the reins to Trism to give it another go, my schedule cleared up enough to offer to help out. I am glad I did. Terranigma is a great game that deserves all the love people give it, and the album project is a great way to pay tribute to it. Massive thanks to Odai for starting the project and the beautiful artwork, Trism for being a great co-director, and Chimpazilla for her mastering services as well as helping out on a few tracks. Hope you enjoy listening to the album as much as we enjoyed creating it!
- Jorrith Schaap (Jorito)

Well. This has been quite the experience. Three years and one hiatus in the making and it's finally here. I've never been involved with something this, well... involved before. It would be entirely accurate to state I had no idea what I was getting into when I offered to become assistant director to Odai when the project was in its infancy, and I CERTAINLY had no idea what I was getting into when I offered to resurrect the project later on. It isn't hyperbole to say that this project would either be significantly less substantial or straight-up wouldn't exist without Jorito stepping in. His experience has been essential to the completion of the album (not to mention his contacts within the remixer community) and I would be remiss if I didn't also give a huge shout-out to Chimpazilla for offering her mastering services during both "eras" of the project. And also, I need to thank Nadzilla from the very bottom of my heart for engineering Manji's "Destiny's Spire" on very short notice and doing a fantastic job of it!
As for the game itself; like Jorito, I had also not played the game when I offered my services on the album. I picked the "Royd" source due to its cool hook, but it did plant the seeds of interest when I looked up the Royd character and started reading into the story of the game itself. It sounded utterly bonkers! I had to play this thing! And play I did, and while life didn't allow me to play it to completion (though I have seen the game finished by some wonderful LPers on YouTube), I have to say it was an amazing experience, there really isn't another game quite like it.
So. Here it is, for better or worse. I really hope you, the listener, enjoy this smorgasbord of different genres and interpretations of some truly amazing source music. Now; what to choose for Paths Less Travelled vol. 2...
- Troy Plain (Trism)
Content Policy
(Submission Agreement and Terms of Use)
Page generated Tue, 06 Jun 2023 15:37:30 +0000 in 0.3134 seconds
All compositions, arrangements, images, and trademarks are copyright their respective owners. Original content is copyright OverClocked ReMix, LLC. For information on RSS and JavaScript news feeds, linking to us, etc. please refer to resources for webmasters. Please refer to the Info section of the site and the FAQ available there for information about the site's history, features, and policies. Contact David W. Lloyd (djpretzel), webmaster, with feedback or questions not answered there.