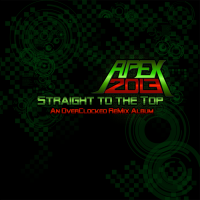 DarkeSword:
"Working on Straight to the Top has been a real rush! I'm really excited to help OC ReMix get involved in some new ways of promoting video game music; making an official album for a an event is something we've never done before and it's been really fun and interesting working with the folks over at Apex Series. I want to give a big shout out to John "Alex Strife" Lugo over at Apex who came up with this whole thing, Cristin "Crismas" DeSaro, another Apex-ite who put together the killer album art, John Ryan, the fellow who wrote the excellent original theme for Apex 2013, and of course all of the OC ReMixers who stepped up and put out some really killer remixes. I hope everyone enjoys the album! And if you can't make it out to Apex this year, make sure to be there the next!"
– Shariq Ansari, Director

For more on the Apex Series tournaments, visit: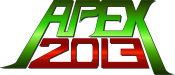 Creator: Johnathan Lugo (Alex Strife)
Director: Shariq Ansari (DarkeSword) (Homepage / Twitter)
Artwork: Cristin DeSaro (Crismas) (Twitter / Etsy)
Executive Producers: David W. Lloyd (djpretzel) & Larry Oji (Liontamer)
Apex 2013: Straight to the Top features eleven tracks from ten artists, arranging themes from ten different fighting games that comprise the Apex 2013 tournaments. It was made by fans, for fans, and is not affiliated with or endorsed by any game publisher or developer; all original compositions and characters are copyright their respective owners.
This album was produced to help promote video game music, the amazing Apex Series tournaments, all the original composers' compositions, and the talented artists that contributed to this project.
Download the Album
You can download the entire album using BitTorrent or download just the ZIP.
Download Torrent of Entire Album!
(HQ MP3 & FLAC, 11 Tracks, 38:55, 347MB)
Download ZIP of Entire Album!
(HQ MP3, 65.3MB) - Right-click & save any mirror link: MIRROR 1 ~ MIRROR 2 ~ MIRROR 3
Like it? Share it! Please help us spread the news!
Song Comments from DarkeSword
1. John Ryan - "The Pinnacle"
Main Theme of Apex 2013

2. Mikeaudio - "Polygons Are Inaccurate"
Source: Super Smash Bros. - "Duel Zone"
Original Composer: Hirokazu Ando
Mike was one of the first guys who heeded the call for remixes for Apex. I had asked for something really high energy and he delivered in spades. I was very excited that he chose a song completely original to Smash Bros. as well; while most folks remember all of the classic Nintendo music in Smash games, the series has some killer original tunes as well. Some really rockin' guitars and great synth leads in this piece, along with some awesome dancey percussion that keeps things going. Love it.
Source: Tekken Tag Tournament 2 - "Xiaoyu Stage BGM"
Original Composer: Keiichi Okabe
4. Phonetic Hero - "Anxiety (When's Marvel Mix)"
Sources: Ultimate Marvel vs. Capcom 3 - "Dormammu," "Akuma," "Galactus," "Dr. Doom," "Phoenix," "Dr. Strange"
Original Composer: Hideyuki Fukasawa
Source: Persona 4 Arena - "The Arena"
Original Composer: Shoji Meguro
One of my own meager contributions the album. The title theme of Persona 4 Arena is a very straight up Japanese rock track, so I wanted to go in a little bit of a different direction. I mixed together some chip sounds, jazzy drums and rhodes, and my own classic fakey sax sound for a bumpin' backing track to a combo video. The more relaxed section in the middle is for the part of the video where you can review the techniques in slo-mo. Hopefully, some enterprising video editor/Persona 4 fanboy has some fun with this.
Source: Super Smash Bros. Melee - "Targets!"
Original Composer: Hirokazu Ando
7. Neblix - "Demon in Hong Kong (Apex Cut)"
Sources: Super Street Fighter IV Arcade Edition - "Theme of Yang -SSF IV AE Arrange-," "Theme of Oni -SSF IV AE Arrange"
Original Composer: Hideyuki Fukasawa
8. WillRock - "One-Hit KO (Bye Esaka Mix)"
Source: King of Fighters XIII - "Good Bye ESAKA"
Original Composers: Shinsekai Gakkyoku Zatsugidan
Isn't King of Fighters great? It's always had a very classic anime feel to it, in my opinion, sort of perpetually hanging on to that old-school Neo-Geo style. Even the newer games like XIII feature great 2D sprite work! WillRock's mix keeps with that old-school feel with a lot of great chippy and synthy stuff. The piano and polysynth leads remind me a lot of classic PSX/Saturn-era games when game composers discovered Red Book audio but still clung to the classic synth sounds. Funky as all get out.
9. DarkeSword - "Straight to the Top"
Source: Super Smash Bros. Brawl - "Main Theme"
Original Composer: Nobuo Uematsu
10. OA - "Team Zwei"
Source: SoulCalibur V - "Sleepless: An Untamed Beast - Z.W.E.I.'s theme"
Original Composer: Andrew Aversa
Source: Pokémon Black & White Version 2 - "Unwavering Emotions"
Original Composer: Shota Kageyama
You know we have more free music, right?
OverClocked ReMix has honored the music of games since djpretzel founded it in 1999.
Browse and download more than 2,400 free ReMixes honoring more than 700 games. Or download any of our free albums featuring more exclusive mixes.
If you've got room for more than 150 hours' worth of music, with more added every few days, you've got room for OC ReMix!
Follow OC ReMix! Facebook / Twitter / YouTube