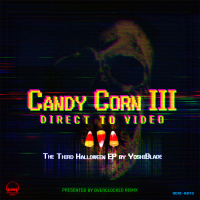 YoshiBlade:
So, it's come to this... So it goes with all horror movie franchises, the first one with its low-budget underground novelty, garnering a morsel of legitimacy, leading to the wide-release theatrical sequel, complete with the blessing of the director and studio execs, only to be panned by the critics, mocked by the fans, and dismal box office returns... then it happens, perusing the local video store, you find it... placed auspiciously next to its cinematic siblings. Did you know its release date? Nope. Was there a plot? Maybe. Didn't that background character die a few scenes ago? Probably. Is the boom mic visible in the film's emotional speech? Almost certainly. But here we are ready to beat the fossilized remains of a horse species long since extinct, may I present... Candy Corn III: Direct to Video.
– YoshiBlade, Director
Creator/Director: YoshiBlade
Album Artwork: David W. Lloyd (djpretzel)
Executive Producers: David W. Lloyd (djpretzel) & Larry Oji (Liontamer)

Candy Corn III features 11 tracks from YoshiBlade, arranging music from several video games for Halloween, as well as special guest skits. It was made by fans, for fans, and is not affiliated with or endorsed by any game publisher or developer; all images, characters, and original compositions are copyright their respective owners.
This album was produced to help promote video game music, video games, all the original composers' compositions, and the talented artists that contributed to this project.
Download the Album
You can download the entire album using BitTorrent or download just the ZIP.
Download Torrent of Entire Album!
(HQ MP3 & FLAC, 11 Tracks, 34:10, 278MB)
Download ZIP of Entire Album!
(HQ MP3, 68.3MB) - Right-click & save any mirror link: MIRROR 1 ~ MIRROR 2 ~ MIRROR 3
Like it? Share it! Please help us spread the news!
Tracklist
2. YoshiBlade - "Street Lamps & Palm Trees"
Source: Kingdom Hearts - "Traverse Town"
Original Composer: Yoko Shimomura
Source: Mega Man 6 - "Knight Man Stage"
Original Composer: Yuko Takehara
Source: Mega Man 3 - "Snake Man Stage"
Original Composer: Yasuaki Fujita
Source: Mario Kart DS - "Waluigi Pinball/Wario Stadium"
Original Composer: Shinobu Nagata
Source: Animal Crossing - "05:00pm"
Original Composer: Kazumi Totaka
Source: Final Fantasy VI - "Fanfare"
Original Composer: Nobuo Uematsu
You know we have more free music, right?
OverClocked ReMix has honored the music of games since djpretzel founded it in 1999.
Browse and download more than 3,500 free ReMixes honoring more than 900 games. Or download any of our free albums featuring more exclusive mixes.
If you've got room for more than 240 hours' worth of music, with more added every few days, you've got room for OC ReMix!
Follow OC ReMix! Facebook / Twitter / YouTube / SoundCloud / Tumblr