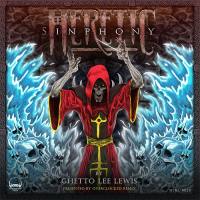 Ghetto Lee Lewis:
"This project started out with an e-mail I received about two years ago. What began with a remix of "The Cathedral" soon turned into a full-blown remix album of Raven Software's Heretic. This game is a classic first-person shooter from the Doom era, with some really good, but overlooked music. I composed and produced this album while working a full-time job (sometimes 60+ hours a week), while putting together a recording/production studio at the same time. It's been a long two years, but I'm finally glad this album is finally coming together and getting released."
– Thomas Nelson, Director
Heretic can still be purchased on Steam. Please support the official release::
Director: Thomas Nelson (Ghetto Lee Lewis) (YouTube / SoundCloud)
Artwork: Tedd Leger (Mehxôhorr Artworks)
Executive Producers: David W. Lloyd (djpretzel) & Larry Oji (Liontamer)
Commissioned by: Emmanuel Frechou (Emmanuel EXE)

Heretic Sinphony features 6 tracks by Ghetto Lee Lewis, arranging music from the Heretic soundtrack for DOS. It was made by fans, for fans, and is not affiliated with or endorsed by Raven Software, id software, or ZeniMax Media; all images, characters, and original compositions are copyright their respective owners.
This album was produced to help promote video game music, video games, Kevin Schilder's amazing compositions, and the talented musical and visual artists that contributed to this project.
Download the Album
You can download the entire album using BitTorrent or download just the ZIP.
Download Torrent of Entire Album!
(HQ MP3 & FLAC, 6 Tracks, 18:15, 173MB)
Download ZIP of Entire Album!
(HQ MP3, 41.1MB) - Right-click & save any mirror link: MIRROR 1 ~ MIRROR 2 ~ MIRROR 3
Like it? Share it! Please help us spread the news!
Tracklist
1. "Damnation and Betrayal"
Source: "The Docks (E1M1)"
2. "Unchained Zealotry"
Source: "The Gatehouse (E1M3)"
3. "Cathedral of Carnage"
Source: "The Cathedral (E1M6)"
4. "Frozen Inferno"
Source: "The Ice Grotto (E2M4)"
5. "Embrace the Darkness"
Source: "The Great Hall (E2M7)"
6. "Vengeful Requiem"
Source: "The Graveyard (E1M9)"
You know we have more free music, right?
OverClocked ReMix has honored the music of games since djpretzel founded it in 1999.
Browse and download more than 3,400 free ReMixes honoring more than 900 games. Or download any of our free albums featuring more exclusive mixes.
If you've got room for more than 230 hours' worth of music, with more added every few days, you've got room for OC ReMix!
Follow OC ReMix! Facebook / Twitter / YouTube / SoundCloud / Tumblr