About Piano Squall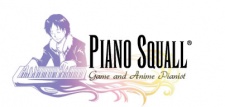 Real Name: Michael Gluck
Artist Name: Piano Squall
Date of Birth: 1983/03/08
Birthplace: Hollywood, Florida, USA
Website: PianoSquall.com
Under the stage name "Piano Squall", Michael Gluck performs videogame/anime music piano concerts to fundraise for charity.
Since 2003, Michael has given concerts in sixteen different states to benefit organizations such as the National Multiple Sclerosis Society, Race for the Cure, Baltimore Reads, the Maryland Food Bank, the Matthew Foster Foundation, and Tsunami Relief. He has been a musical guest at twenty-seven anime conventions, including Sakura-Con 06 and 07, A-Kon 06, and Otakon 05, where he performed for an audience of three thousand people.
In 2007, Michael released his debut album, entitled GAME, which became the first videogame and anime piano solo CD to be published by an independent musician. Proceeds from GAME benefit the National Multiple Sclerosis Society to fight the disease that destroyed the life of Michael's grandmother.
Michael's music has been featured by MTV, Newtype, GamesRadar, GameDaily, The Otaku, Destructoid, VGMusic, RPGamer, RPGFan, The Armchair Empire, SquareSound, QJ, and Music4Games.
Interview
Conducted February 2, 2008 by OC ReMixer and Judge Andrew "zircon" Aversa:
Hi, Michael! For those readers who aren't familiar with your work, why don't you introduce yourself?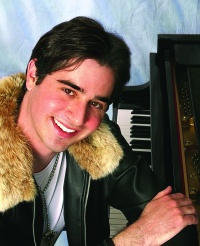 Hey Andrew, thanks so much for chatting with me today. I'm just a guy who loves videogame music like everyone else here. I've devoted my life to performing videogame and anime music piano concerts to raise money for different charities that are important to me. I support multiple sclerosis and cancer research, food drives, literacy programs, and any other worthy cause that needs help.
You've said that Nobuo Uematsu's rendition of "The Prelude" from Final Fantasy IV was the first piece of video game music that really made you stop and think, 'Wow, this is great music!' What VGM soundtracks from today's generation of games grab your attention?"
My favorite music always comes from Japanese RPGs. I'm a huge fan of every Final Fantasy soundtrack, but I'm also inspired by Suikoden, Xenogears, Chrono Trigger, and so much more.
Please tell us about GAME!
GAME features twenty-six original piano arrangements of music from Final Fantasy, Super Mario World, Chrono Trigger, Mega Man, Chrono Cross, and Tetris. It's also got a few tracks from anime titles like Naruto, Evangelion, Cowboy Bebop, Fullmetal Alchemist, and InuYasha. My favorite track is the "Final Fantasy Battle Medley," which brings nine Final Fantasy battle themes together into one piece.
Proceeds from GAME benefit the National Multiple Sclerosis Society. I hope that you will enjoy my performance!
Giving proceeds from GAME to the National Multiple Sclerosis Society actually isn't your first time performing VGM remixes for charity. What's led you to help so many other causes and how did you get started down that road?
I chose this road from the very beginning because working for charity is the most rewarding feeling in the world. Whatever your career might be, try giving a percentage to your favorite charity one year and see how it makes you feel. It will add a whole new purpose to your life, and your motivation to work and achieve will increase substantially.
Before GAME, I had always been limited to fundraising on-site at my concerts by selling posters, T-shirts, and other Piano Squall brand merchandise. I was able to collect over $12,000 for my charities in 2006, so these methods were definitely effective, but GAME just brought everything to the next level. The album is available online, at retail stores, and on more than 40 unique digital download services worldwide, so now my fundraising capabilities extend far beyond the concert hall.
Outside of OneUp Studios, the fan arrangement community has mostly stayed away from the commercial release of VGM remixes, primarily for legal reasons. How'd you pull off GAME without running into those issues?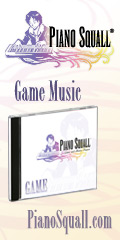 GAME consists almost entirely of licensed tracks, so it was a very expensive album to publish. I have spent several thousands of dollars in royalty fees so far, and I will continue to pay royalties for the rest of the album's life.
Oh, and since you mentioned OneUp Studios, I just wanted to say... Dude, I'm a HUGE fan. I own every single one of those albums!
So, if someone wanted to arrange a particular soundtrack and release their own album, what sort of steps should they take?
Totally! Let me tell you exactly how to do it:
Okay, step 1: Go to this website: www.HarryFox.com
Harry Fox is a company that administers the payment of music royalties. Think of them as the middleman between you and the copyright holder of the music that you want.
Suppose you want to record your performance of various Final Fantasy pieces and publish your own album. Even though Square Enix owns the copyright to this music, you wouldn't actually contact Square directly to pay royalties. Rather, you'd give Harry Fox a call and tell them exactly which pieces you want to license. HF contacts the copyright holders on your behalf and secures the licensing agreements for you.
Step 2: Every three months, you pay Harry Fox what's called the "statutory rate", which is currently set at 9.1 cents per track per CD that you sold. Use GAME as an example. My album has 25 licensed tracks (the Tetris theme is public domain), so that means I pay $2.26 in licensing fees on every copy of the album.
Step 3: You submit a quarterly sales report with a check to Harry Fox, and they pass the royalties on to the copyright holders for you.
In addition to the royalty fees, what other expenses should someone plan for when self-publishing an album, and what advice can you offer members of our community who might want to take their albums on the road and pursue a career in performance as you have?
If you decide to release your own album, remember that royalties are only one of the many expenses involved. You also need to consider retailer margins, production costs, advertising costs, website development, photography, packing, shipping, inventory space, PayPal/merchant fees, and manufacturing costs. And of course, an album can take months to create, so you need to prepare for a substantial time investment.
If your goal is to make money, you cannot release your album at $9.99 with free shipping like I did. After all of the expenses, your profit margin will be very small, and if you decide to reserve a percentage of your total proceeds for charity, be prepared to take a loss. If you are interested in profit, you need to come out at a higher price point.
I think videogame and anime conventions are the best venues for someone to get started. There's at least one convention running just about every weekend of the year, and they're always looking to add new musical performances to the program. You'll also find that the audiences are extremely warm, friendly, and excited about videogame music at these events.
OC ReMixers are the heroes of the videogame music world, and I'm hoping that many members of this community will choose to pursue careers in performance over the coming years. Our genre is so young compared to other kinds of music, and we need more people getting out there to share it with new audiences.
Thanks very much for taking the time to speak with us, Michael.
It has been an absolute pleasure to speak with you, Andrew. I would like to make myself available to anyone that might have more questions about how to license videogame music or pursue a career in performance. Please tell them to email me at Michael@PianoSquall.com, and I will respond to every question personally.
More on Piano Squall
Visit Michael online at PianoSquall.com.