m

m

 

(4 intermediate revisions by 2 users not shown)
Line 35:
Line 35:
 
 
 

<big>'''[http://bt.ocremix.org/torrents/Shuttle_Rush_-_Shuttle_Remix.torrent Download Torrent of Entire Album!]</big><br/>

 

<big>'''[http://bt.ocremix.org/torrents/Shuttle_Rush_-_Shuttle_Remix.torrent Download Torrent of Entire Album!]</big><br/>

−

(HQ MP3 & [http://flac.sourceforge.net/ FLAC], 7 Tracks, 28:58, 254MB)'''

+

(HQ MP3 & [http://flac.sourceforge.net/ FLAC], Tracks, 28:58, )'''

 
 
 

<big>'''Download ZIP of Entire Album!</big><br/>

 

<big>'''Download ZIP of Entire Album!</big><br/>

Line 56:
Line 56:
 

'''Source:''' "Tread Heavy"

 

'''Source:''' "Tread Heavy"

 
 
−

=== 3. Kubbi - "PartyLabz" ===

+

=== 3. Kubbi- "PartyLabz" ===

 

'''Source:''' "JoLabz"

 

'''Source:''' "JoLabz"

 
 
Line 65:
Line 65:
 

'''Source:''' "Observate"

 

'''Source:''' "Observate"

 
 
−

=== 6. [http://ocremix.org/artist/12783/amphibious Amphibious] - "Groovin' Through the Cosmos" ===

+

=== 6. [http://ocremix.org/artist/12783/] - "Groovin' Through the Cosmos" ===

 

'''Source:''' "Galactic Groove"

 

'''Source:''' "Galactic Groove"

 
 
Line 85:
Line 85:
 
 
 

__NOTOC__

 

__NOTOC__

 
+
 
+
---
Latest revision as of 06:40, 10 June 2018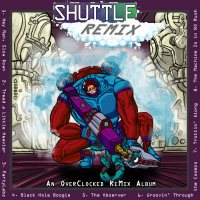 DaMonz:
Shuttle Rush is the first game that I developed with my team, Takusan Works, and Shuttle Remix reinvents the game's whole original soundtrack.


This album was made by an amazing OverClocked ReMix strike team. They all did an outstanding job at reworking the game's music into something entirely different. Every arrangement is enjoyable in its own way, and brings a whole new set of colors to the soundtrack. In contrast with the somewhat hyperactive original music, most of these arrangements are relaxed and groovy, all in their own way. And even though the album might seem slightly short, it shows one of OverClocked ReMix's greatest strengths: diversity. Every ReMixer has their own style, and this album makes no exception. I am extremely grateful to every single one of them for their awesome work on this album, and I hope you will all have a great time listening to it!
– Emery Monzerol, Composer/Director
Composer/Director: Emery Monzerol (DaMonz)
Album Artwork: Kristoffer Soucy (Kris VRS)
Executive Producers: David W. Lloyd (djpretzel) & Larry Oji (Liontamer)
Shuttle Remix features eight tracks from seven artists arranging music from Takusan Works' Shuttle Rush. It was made by fans, for fans; all images, characters, and original compositions are copyright their respective owners.
This album was produced to help promote video game music, the amazing original compositions of Emery "DaMonz" Monzerol, and the talented artists that created this project.
About Shuttle Rush
Shuttle Rush is a fast-paced, old-school 2D platformer now available on the Wii U eShop!
The main character, space taxman Bob, is stuck on a hostile alien space station, and is running out of oxygen. The goal is simple: escape with your life. Fortunately, oxygen vending machines are scattered across the whole station. Using those will be mandatory to reach Bob's shuttle in time.
Run, gather coins, sneak past aliens, purchase oxygen, and you just might make it. It definitely won't be easy though. Good luck Bob, and do Rush it!
Shuttle Rush on the Wii U eShop!
Get
Download the Album
You can download the entire album using BitTorrent or download just the ZIP.
Download Torrent of Entire Album!
(HQ MP3 & FLAC, 8 Tracks, 28:58, 257MB)
Download ZIP of Entire Album!
(HQ MP3, 51.9MB) - Right-click & save any mirror link: MIRROR 1 ~ MIRROR 2 ~ MIRROR 3
You can also purchase the Shuttle Rush original soundtrack on OverClocked Records!
Like it? Share it! Please help us spread the news!
Tracklist
1. Theory of N - "Hey Man, Slow Down"
Source: "Shuttle Rush"
2. DDRKirby(ISQ) - "Tread a Little Heavier"
Source: "Tread Heavy"
3. Kubbi - "PartyLabz"
Source: "JoLabz"
4. halc - "Black Hole Boogie"
Source: "Space Jungle"
Source: "Observate"
6. Jamphibious - "Groovin' Through the Cosmos"
Source: "Galactic Groove"
7. DjjD - "Trottin' Along"
Source: "Main Jam"
8. DDRKirby(ISQ) - "The Machine Is in NO Rush"
Sources: "Rush for Your Life," "Race Against the Machine"
You know we have more free music, right?
OverClocked ReMix has honored the music of games since djpretzel founded it in 1999.
Browse and download more than 2,800 free ReMixes honoring more than 800 games. Or download any of our free albums featuring more exclusive mixes.
If you've got room for more than 195 hours' worth of music, with more added every few days, you've got room for OC ReMix!