ANNUAL FUNDRAISER!! Help us take OCR to the next level by supporting us on
Sponsors: Bart Verbeek, Cynical Brit, Dave Oshry, From the Mind of Klink, Matt (aka Antidragon), Michael Beauchamp, TFBgaming, VinnyMac, Wesley "Bahamut" Cho... + hundreds of supporters! Thanks!!

Download MP3
2,784,864 bytes, 2:34, 141kbps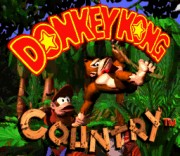 deim0s clocks in a Christmas ReMix with this charming ambient DKC ReMix of the Ice Cave BGM. Harp, bells, very slow-attack vocal pads with the right amount of reverb, great strings, piano, what sound like waterphone samples to me, and an arrangement that flows nicely. The intro actually reminds me of the intro to Orbital's 'Halcyon and on and on' track that I love. Definitely more of a soundtracky feel to this piece, as sound quality is superb and over several iterations the same melody is modified / played with different combinations. The type of mix that could have been turned into a killer techno track but is even better because it wasn't. Have an ambient Christmas? You betcha.