ANNUAL FUNDRAISER!! Help us take OCR to the next level by supporting us on
Sponsors: Bart Verbeek, Cynical Brit, Dave Oshry, From the Mind of Klink, Matt (aka Antidragon), Michael Beauchamp, TFBgaming, VinnyMac, Wesley "Bahamut" Cho... + hundreds of supporters! Thanks!!

Download MP3
4,585,472 bytes, 3:08, 192kbps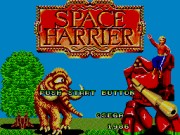 Words cannot describe my love for Sega's first-person 'dude running real fast' shooter, the one, the only, Space Harrier. Its main theme was one of the very first I ReMixed on this site, and certainly deserved a revisit. In this case, Slow Poison, with Chris Abbot (the man), have done the track techno justice extraordinaire, with pseudo filtered synths doing insane wakka-chikka patterns, gated pads, great vocal samples, fantastic use of the intro 'welcome to the fantasy zone' sample (how could I have forgotten it? shame.), and just a feelin' good vibe with all parts interacting how they should. Chris is a major player in the c64 arrangement scene, so do check out his sites, you'll find more where this came from. If the build part at 1'50" and the release that comes after doesn't get your head doing that chicken-thing lookin' all goofy, something's broken. Thanks to Chris for submitting and covering an old classic that I'm particularly partial to in a major way. Highly recommended.
Rexy
on 2011-12-10 07:13:22
halc
on 2008-12-11 03:58:13
OA
on 2007-06-29 12:55:06