ANNUAL FUNDRAISER!! Help us take OCR to the next level by supporting us on
Sponsors: Bart Verbeek, Cynical Brit, Dave Oshry, From the Mind of Klink, Matt (aka Antidragon), Michael Beauchamp, TFBgaming, VinnyMac, Wesley "Bahamut" Cho... + hundreds of supporters! Thanks!!

Download MP3
6,023,124 bytes, 4:08, 192kbps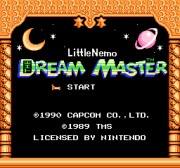 This is one ReMix that was a long time coming. Jazzflight submitted it a long time ago in a galaxy far, far away, and we lost touch. Well, with the positive memories and good nostalgia vibe generated by Gux's recent Little Nemo mix, JF decided to resubmit this much-enhanced version. He writes: "Man, I really loved this original song. Note: it's only 20 seconds long in the game. My remix is 4 minutes and 7 seconds. It just has that "fun, addictive" nature to it, I couldn't resist. =D ". I have to concur - this is the type of theme that makes one feel as if one is floating over clouds, looking down upon the world below. Or maybe that's just the Jim Beam talking. Either way, the treatment here is unique, with a jazzier drum kit running more of a techno duty at times, and at times doing more of a laid-back thing. Synthetic 'computer speech' intros us off, verbatim from the game, but we also get the great reprise of "Sleepy time, let's go!" which brought a smile to my face. Love the deeeeep bass and kick drum, and the way electronic elements and emulations of acoustic instruments are intertwined. This piece kinda defies categorization, which is a very good thing. Details - at 2'26" there's little country twang thrown in for good measure that adds character. I also dig how this piece ends - not really a fade, not a dead stop, more of a ritard and gradual 'de-orchestration'. Very hip, very original, lotta style, and fun to listen to.
OA
on 2007-01-02 16:31:57
ecco
on 2002-11-20 13:19:09