ReMix:

Halo: Combat Evolved 'Fall from Above (You Can't Stop)'

Download MP3
5,841,732 bytes, 4:00, 192kbps

Play Preview
Streaming preview on YouTube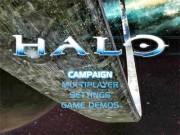 Arkimedes gives us this highly interpretive but also highly enjoyable Halo mix of the title theme. There's some robot voice going on here that might initially seem cheesy but gets really rather cool & trickster at 2'12" where it's mixed in with some additional proclamations as to our collective inability to stop the beat... definitely works well with the choral underpinnings, which are the clearest remnants of the original. Things intro with some percolating, oscillating synth pulses, then minimal drums and a very nice, warm analog bassline come in and kick + vocal samples join the fun. The strength and warmth of the bassline go a long way towards providing a foundation for the track, and as strings swell in and lead the way to those crazy & wild monks, they keep the lowend thumping. There's a gradual addition and succession of ingredients here that truly keep things interesting and maintain momentum, and some great details like the morphing processing applied to the "you can't stop" sample. When the beat eventually DOES stop (hey, false advertising!) it's in a tasteful denouement, stripped-down breakbeat fade fashion. The Wingless offered this pseudo-misogynistic metaphor:
"Man, I am lovin' dis song. It's about time us Xbox fanboys came out of the woodwork and started making some noise. Excellent synth work here mixed with the Halo tabernakkkul choir. I'm sure some would find the "can't stop"-age bothersome, but I like it. Great variation, dynamics, samples, yadda yadda yadda. It's like a pretty girl that knows how to cook and clean..."
Good first sub from Arkimedes, who takes a minimalist theme and turns it into a more elaborate electronica affair without being too indulgent or stretching things too far.