ReMix:

Metroid 'Kraid's Hideout'

Download MP3
5,763,427 bytes, 3:57, 192kbps

Play Preview
Streaming preview on YouTube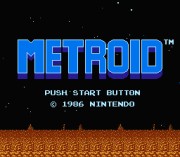 First, the bad: this mix has some significant tuning problems. Seemed to bother me more than the judges, but if you got perfect pitch and can detect (and loathe) pitch discrepancies in cents as opposed to semitones, you might have some issues. Now, the good: first, newcomers Select Start (check the site, http://plaza.ufl.edu/wuli32/ for info) have not only a cool band name, but are offering something decidedly different to the annals of Metroid ReMixdom with this initial submission in ensemble strings and guitar. Very innovative, and works largely due to the arrangement capitalizing on the lack of percussion and really highlighting both higher and lower string parts (violin and cello) and varying articulations as well. The Metroid theme in question lends itself well to the sort of haunting, maudlin string performances here, which harken to classical horror movies from days of yore. One of the greatest things about this ReMix is actually the fact that he-of-supposedly-infallible-truths, Protricity, was totally wrong in calling what are clearly REAL strings samples. Let's look at his embarassing, factual blunder, shall we?
"Violins don't sound real at all. Lots of repeating."
Of course, he later went back and corrected himself, like the champ he is, but the damage was already done: clearly, Ari Asulin has been, on at least one occassion, wrong. Mark your calendars. Moving on - the same thing this mix has going for it it also has going against it; namely, the exposed style is quite risky, especially with real instruments, and while this couldn't have been done as effectively if not for the live aspect, there are some afforementioned tuning issues that are problematic, albeit at certain times more than others. Judge Cabrera writes:
"There is LOTS of variation on the attack and articulation. And the bad tuning is usually an indication of real instruments. Anyway, I like it for the same reasons that Mr. Wingless likes it. And it's not note for note. It varies in sections like the one that starts around 2:15. I'm giving it a YES even WITH the bad tuning because it almost adds to the creepiness of it all."
In all honesty, I don't think the tuning is intentional, BUT it does happen to work and add to the creepiness for that retro-dracula feel as Dan points out. Plus, even if it's not in absolute alignment, the playing is other regards competent and the mix will laid out. For another track, where the tuning might have been more prohibitive and not played into their hands, we might have had more reservations, but this remains a different take on an oft-covered track, a good combination of a real instrumental ensemble, and a haunting, ominous, gothic arrangement. Featuring real strings. That are real :)