ANNUAL FUNDRAISER!! Help us take OCR to the next level by supporting us on
Sponsors: Bart Verbeek, Cynical Brit, Dave Oshry, From the Mind of Klink, Matt (aka Antidragon), Michael Beauchamp, TFBgaming, VinnyMac, Wesley "Bahamut" Cho... + hundreds of supporters! Thanks!!

Download MP3
4,552,704 bytes, 3:07, 192kbps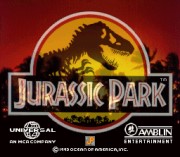 With a paradoxical mix title comes one of those talented Dans, in this case Baranowsky, with a sonic juggernaut of a Jurassic Park SNES mix that's got slick beats, chunky guitar chords, screaming lead guitar courtesy of Ryan Probst, and all manner of bleeps, bloops, and assorted synth fx to fashion up things real horror-show (kudos to those catching the recent non-sequitir Burgess references). This is a more groove-based track to begin with, so the arrangement isn't the focus here, though there's a substantive deal of reworking and tons of additive stuff happening. Nice breakbeat work circa 2'10". In general, this is a piece that is consistently impressive and fun to listen to, but not very narrative or containing a lot of direction - it essentially establishes a motif and from there on out it's a question of sonic variation and splicing. There's certainly a place for this style of ReMixing, and tracks which are more BGM to begin with sometimes almost dictate it, plus Dan B.'s great at it, so don't mistake that analysis for criticism. Some of the chopped, gated synths right out of the gate, panned left, are quite the shit, and the piece overall has the feel of a powerful posse of dinosaur hunters or what not coming to kick some velociraptor posterior. I don't think it works the same way if you envision any of them as Sam Neill, though. A cool, funky break from the ordinary that's just da right length and uses its tricks to the benefit of the music and not just as gimmicks. Yummy tunes from Danny Nowshky.