Download MP3
6,321,898 bytes, 3:50, 216kbps

Play Preview
Streaming preview on YouTube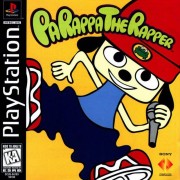 Man! I can't tell you how much I love this ReMix... But you know I'm gonna try - it's awesome in at least four major ways, which I shall now enumerate for your careful consideration:
The Return of Mythril Nazgul! It's been over five years since Navid's last mix, and while he's now operating under the moniker of Navi (Hey, Listen!), an Azeez (LIGHT!) by any other name still mixes as great... even better, I'd say.
Our first PaRappa ReMix! It's no longer all in the mind, thanks to Navi we got us a bona fide mix. I played the hell out of this game, and everyone else should too - one of the original rhythm/music games, with some really rather complex syncopations.
Rap/Hip-Hop represent! I'd love to see more of it on OCR, and this is a great example of keeping it original while also playing with the source lyrics and generally just kicking ass.
Amazing lyrics. Seriously, I can't imagine this being better. I'm a huge fan of Top Chef so that namedrop was nice, plus you got whetstones, sauteed spinach, culinary sciences, trashed appliances... the craftsmanship here just floors me.
So yeah, hopefully some or all of that sells you that this is a mix you NEED to check out. For me, it's the homage to PaRappa that I've been dreaming of for probably the full ten years that OCR's existed; I always knew something like this could work, but the execution would have to be perfect. To be honest, while his older stuff is great in its own right, I'm not sure Navid could have rocked something like this five years ago, but present day, present time, he's got some formidable skills. Navi writes:
"I noticed it's been about 5 years since I last submitted a remix so I figured I'd grace the panel with some hip hop musics. And, to keep things fresh, I've decided to make the first OCR Parappa the Rapper remix. I know, you're thinking, how do you remix a hip hop soundtrack in a hip hop style? Well, here's the answer: They've been mashed together in an old wu tang/RZA style, heavy bass and grimy dark drums. Stark contrast to the poppy sound of the actual ost. To be specific, the melody is a slight variation on the main horn riff from 'cooking chicken', the bassline is derived from 'bathroom rap' - most specifically during the breakdown at 1:57. Certain aspects of the actual rap in 'chop chop' have been appropriated to the lyrical content. Hopefully, it fits the arrangement standard of the site. If not, it won't hurt my feelings. :P

Lyrically, the song is built around the rise and fall of a rap star/culinary expert. I won't try and explicate it for you, but it seems to be appropriate in the context of the game (rap) and the track (cooking). Good to submit content back to the old stomping grounds! probably won't be the last! Look forward to seeing what you have to say on this one."
Here's what I have to say: You knocked this one straight outta the park, buddy. Some of the cadence actually felt more Eminem than Wu Tang to me, but I'll take either or both as being great influences. About the only negative "critique" I can even begin to think of is that there were a few more culinary terms - umami, amuse-bouche, sous-vide, foie gras, etc. - that would have made great rhyming material. I strongly doubt those missed bonus esoteric jargon points will bother anyone, though, including Jesse:
"This is a great example of how a videogame to hip hop conversion should be done. Taking the song out of context, it's a fantastic pop construction. Sounds like a lot of underground hip-hop from the past decade. Excellent delivery and your samples (in the hip hop sense, not the virtual instrument sense) are very well chosen. It's definitely on the more liberal end of what we accept, but the approach is authentically hip hop, and the samples used (and created, obviously) are undeniably reconstructions of the sources."
As a sidenote, Navid released some great FREE original tunage you can check out on bandcamp; well worth your time. Great stuff - hope we don't have to wait another five years for a follow-up, but at least the last five years were worth it!