ReMix:

Metal Gear 'Snake Infiltrates'

Download MP3
3,663,872 bytes, 2:30, 192kbps

Play Preview
Streaming preview on YouTube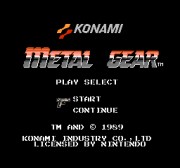 "Snake Infiltrates"...a cancelled adult film from the late 90s? Probably not, but I can't say for sure. I can however personally attest to it being the latest cinematic masterpiece from Rich Douglas, alias Beckett007, who's been serenading us with epic, Hollywoodesque arrangements since 2007. This marks his sixth posted mix, and it's from the appropriately dramatic/cinematic Metal Gear series' first outing:
"By now, you're all VERY familiar with how I like to go about my remixes... take source music and turn it into something suited for a film score. In the case of the original Metal Gear on the NES, there's TONS of great source material there. For this one, I thought it might be really neat to approach it as if it were scored by Harry Gregson Williams or Hans Zimmer, and update the "Outside" cue from the original title to something that might be heard in peace walker or any of the more recent Metal Gear titles. It translates REALLY well! I also took the sneaky vibe of the original and turned it into a powerful action cue at the tail end of my remix as it hypothetically follows snake as he infiltrates the enemy base. There's tons going on here which made it a crazy challenge to mix, but I'm extremely happy with the end result."
Of course, that's more or less the direction the series' music took with the Solid games, so it makes sense to go back and revisit the origin with the style and approach of its own modern-day incarnation. Very cueish, militant vibe, with the initial sneakiness getting bolder and more determined, and choral components shining through, then at 1'14" a quick tempo change into action-packed, racing drama, complete with Gladiator-esque Lisa Gerrardness. Rich's mixes certainly paint pictures, in this case taking the 8-bit, retro world of the first Metal Gear and pulling it straight into MGS territory, with some overt Zimmerisms and excellent technique blending choral and orchestral timbres. Excellent work from Mr. Douglas, who continues to impress, express, and produce some very slick, conceptual arrangements.
Bahamut
on 2012-07-15 22:46:39
Crulex
on 2011-12-13 10:34:10
Rexy
on 2011-12-13 03:40:33
HitoriJaNai
on 2011-12-07 13:14:49
OA
on 2011-12-07 11:23:24
Martin Penwald
on 2011-04-20 13:16:54
Salluz
on 2011-02-24 14:48:36
docnano
on 2011-02-19 20:34:05
Conrose
on 2011-02-17 01:31:19
BONKERS
on 2011-02-17 00:42:23
djpretzel
on 2011-02-16 23:05:47