ReMix:

Ristar 'Stars on Ice'

Download MP3
6,250,869 bytes, 3:31, 234kbps

Play Preview
Streaming preview on YouTube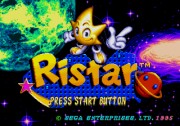 We conclude our holiday TRIPLE-MIXPOST with another track off of An OverClocked Christmas V6, this time from DusK with piano assistance from Rexy, taking on the Ristar soundtrack with some piano-led holiday rock. Dustin writes:
"I made this for An OverClocked Christmas, Vol. 6. It's very different from my usual stuff, trying instead to capture a Christmas-y feel with it. After screwing around with some piano stuff, I realized I wanted, ya know, GOOD piano in the remix. So I contacted Rexy with the WIP, and she piano'd it up. Obviously a little late to get it released for this Christmas, but maybe next Christmas if it passes?"
Little did he know that we sometimes throw chronological order out the window on special holiday occasions like this; Santa needs a little spontaneity. Intro sleigh bells get the xmas spirit off & running right out of the gate, then church bells further set the mood, leading into bass & electric guitar covering the main chord motif, with piano lead soon to follow. It's great to hear more of Ristar's soundtrack get some lovin', and this source was already wintry & lent itself particularly well to the jingle bell treatment. This isn't DusK's crispest production, and I feel like some EQing down the mids and bumping up the highs would have given things more of an open-air feeling especially appropriate to the season, but the arrangement makes sense, capitalizes on the source material, and Rexy's contributions on piano add warmth & detail. Nice collab, nice mix, nice album, and happy holidays to all!

Discussion:
Latest 6 comments/reviews; view the
complete thread
or
post your own
.
Certainly perfect for a warm seasonal setting. While the production had some spots of weirdness, I still feel like that's a small nitpick for a wonderful Wintery ReMix like this. Not bad at all, fellas.
- Crulex on August 3, 2013
This was yet another example of an amazing piece that was well done. I am so thankful to DusK and Rexy for this one. As I am also thankful to everyone who joined in to bring us all An OverClocked Christmas v.6 this year.
Thanks everyone!!
- Dyne on December 31, 2012
I love this! Ristar was another overdue source. Also (for djp), you forgot the level 4 cameo at 2:24.
- purplecowadoom on December 26, 2012
Lovely seasonal tune!
[IMG]http://www.gifs-paradise.com/animated_gifs/santa-claus/animated-gifs-santa-claus-20.gif[/IMG]
- WesternZypher on December 25, 2012
Soz about production, there was a REALLY loud piercing sound around 2KHz that was ruining the mix and I didn't have time to re-record the guitars, so I ended up EQing it down. :(
- DusK on December 24, 2012
What did you think? Post your opinion of this ReMix.
- djpretzel on December 24, 2012