ReMix:

Mega Man 3 'Mega Manhood 3: The Blasting of Hard Man'

Download MP3
5,569,664 bytes, 3:49, 192kbps

Play Preview
Streaming preview on YouTube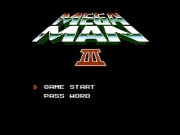 This rock/metal MM3 ReMix from Danimal Cannon is the business. He just released an original chiptune album w/ Zef, Parallel Processing, which is also rather badass, and which you should check out & buy if you like amazing chiptune-oriented stuff.
Where does he get the time to do originals when he's in 763 different bands and ALSO makes solo arrangements like this? I don't know, but contributing to (or heading up) so many projects/initiatives hasn't cramped his style or hurt his musical mojo one bit - the force remains strong with this one, and while this mix plays it pretty close to the source, just amping up the bassline like he did makes a pretty big difference in listener focus - I certainly knew that part was there, in the source, but the aggressive placement & performance here makes it far more of a highlight. Production really pops, too, with every last element packing a nice punch. DC writes:
"I made this for the MAGfest X Dwelling of Duels competition in 2012. Both of these themes have been something I wanted to remix since I started rediscovering video game music. It is definitely one of my more restrained mixes, both of the songs had a very definitive groove that I wanted to embrace and then throw my own little Danimal flavor over. I was also unable to contain myself when presented with such tasty chord progressions, so some guitar solos were really inevitable."
Mega Manhood indeed... while I'm not entirely sold on the mix subtitle, that's about the only thing I'm not loving, as this mix is crisp, aggressive without being overbearing, throws in more than enough interpretation & personalization to make it his own, and generally kicks ass. It's a testament to the overall strength of the Dwelling of Duels competition that this was one of several amazing tracks from that particular duel, including 'Full Mast' and 'Hero of Celceta' among others. Excellent stuff from Danimal; downloading should be considered as inevitable as those guitar solos were, and check out his album for some original work that fans of VGM & great music in general should dig!

Discussion:
Latest 11 comments/reviews; view the
complete thread
or
post your own
.
Nase;901330 wrote: Very entertaining.
Bit of a Satch vibe in some the soloing, no? Maybe it's just me. Some of the real fast bits also sound paul gilberty.
I had the exact same thoughts!
- brimtastic on March 26, 2013
So I can tell that 2013 is going to be the year of interesting ReMix titles, but the real story is that finally Wily's music from MM3 gets some love in the form of this continually building show of rock! Good and hard, and to be honest, it really did sound like that solo had a bit of Satch in it, even if a little. Very clean sounding, too. Not bad at all.
- Crulex on February 11, 2013
The name is definitely the best part of the song.
- KyleJCrb on February 3, 2013
About time someone covered Wily 1 from Mega Man 3! I always felt this was an unforgivably overlooked tune. Well:nicework:done!
The hell with the title, though? :dstrbd: What does Hard Man have to do with this? Awful name for an awesome submission. It's like... you do something so right that you purposefully do something else wrong. :banghead: God, I hate you now! Because I just have to download this. [IMG]http://www.websitegoodies.com/smilies/character0263.gif[/IMG]
- Jedi QuestMaster on February 3, 2013
This would have been an instant download for me if History Repeating: Blue by The Megas hadn't just come out. I mean, this is awesome, but I personally love vocals, and both Gamma Unchained and (I Want To Be The One) To Watch You Die are astounding.
- MindWanderer on January 31, 2013
Oh my God, it's Wily 1 from MM3. You have no idea how long I've been waiting for an arrangement of this one. You even mixed in some good ol' Wily 2 MM3 in there, which is also awesome.
Some real sexy hard rock guitar playing in this one. I'm in love with this, man.
- Gario on January 25, 2013
KyleJCrb;901363 wrote: [URL="http://www.myspace.com/quickmandan/photos/1286532"]Dan is the mirror version of Satch.[/URL]
Lol, Joe has jaw cancer.
Pretty close ;)
- Nase on January 23, 2013
Nase;901330 wrote: Bit of a Satch vibe in some the soloing, no?
[URL="http://www.myspace.com/quickmandan/photos/1286532"]Dan is the mirror version of Satch.[/URL]
Been rockin' this since the MAG DoD last year. An awesome arrangement of two Wily stage themes that don't get enough love (and in Stage 2's case, is actually better than MM2's Wily Stage 1.) Also, one of the best song titles ever, especially for people in radio like me. :lol:
- KyleJCrb on January 22, 2013
Oh yes this is nice indeed. Love all the wankery going on with the guitar parts. Well done. Two awesome sources as well. I just love that second Wily theme and there don't seem to be enough good remixes of it. The arrangement is a little conservative, but I think there is enough personalization (especially in the second half) to keep things fresh. Great job!
- SuperiorX on January 22, 2013
Very entertaining.
Bit of a Satch vibe in some the soloing, no? Maybe it's just me. Some of the real fast bits also sound paul gilberty.
Whole thing feels like a 5 minute tune. Chock full of stuff. Good wurk :)
- Nase on January 22, 2013
What did you think? Post your opinion of this ReMix.
- djpretzel on January 22, 2013