ReMix:

Mega Man 5 'Derailed at Wily Temple'

Download MP3
7,187,697 bytes, 3:56, 241kbps

Play Preview
Streaming preview on YouTube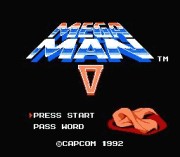 Phonetic Hero (Pete Lepley) follows up his 2012 debut Pitfall ReMix with a Mega Man 5 (& 9) arrangement from the Wily Castle Remix Gauntlet compo organized by DarkeSword, melding electronica with a lot of Eastern/Indian flavors for a mix that genre-bends quite a bit; pH writes:
"This was my third piece for the WCRG (which was a ton of fun and really forced me to up my game, and I hope it's apparent), and for fun I wanted to revisit the vibe from Mayan Malfunction; turns out, it's a style I really really enjoy, and it would seem that the Pitfall soundtrack has had more of an influence than I previously thought. This one's obviously not as over-the-top glitchy, but there's definitely some saucey glitches and gating in there, especially on transitions. Ethnic drums are unbelievably fun :D I also enjoyed adding in the sitar and shakuhachi (Japanese flute). Also, on a more personal note, this mix was a sort of break through for me, since I made all my own synths...all the while I've been trying to up my production game, which is far from good, but I'm learning.

Source Breakdown (and a good one, since I left it out of my last sub):


0:06 - Wily 2 transition at 1:11 in the source
0:31 - Charge Man intro melody, minorized/interpreted
0:47 - Charge Man melody 2, again, minorized/interpreted; 0:11 in the CM source
1:00 - Sexy ethno-break; Charge Man melody 2B, 0:22 from the CM source
1:13 - Same thang, just with different instruments
1:25 - Back to Wily 2 transition
1:38 - CM chorus, 0:54 in the source, heavily interpreted
2:03 - Uh, I guess the same thing interpreted waaaay differently. I thought I switched it up more than that, but apparently not :P
2:15 - Pretty straight forward Wily 2, 0 :46 in the source
2:41 - Back to CM melodies from earlier, although the first is interpreted a little differently
3:05 - More straight forward Wily 2 with a bit of interp, 0:13 in the source
3:44 - Still Wily 2, looping back to the first part at 3:05 of the mix
3:56 - Back to the Wily 2 transition from the beginning of the mix to finish things out"
Quality source breakdown; appreciated, and probably quite useful for those who love to dissect arrangements for potential ideas - or just because it's fun. Shariq ran the compo, so let's see what he thought:
"Pretty cool. Nice interpretation and arrangement of both themes. Electronic drums seem to be fighting with the ethnic drums for attention, but it's not a dealbreaker. I do like the ethnic sound. Sounds good."
That didn't bug me much, personally, but I did agree with halc's subsequent comment that the application of dblue/grossbeat style glitching could have been handled with a bit more craft & specificity - it's an interesting effect and I think it'll have staying power as a production technique, so I'm not saying it should have been excised completely, but I think at times it can feel gratuitous or isolated. Some production issues here & there, but a very creative arrangement and melding of themes that has a lot of the same appeal as Pete's previous mix - good stuff!

Discussion:
Latest 5 comments/reviews; view the
complete thread
or
post your own
.
The glitching effects are top notch once again, Hero. I love that you went for the "Mayan Malfunction" vibe, because it seems to be a style to excel at, and it shows here. Fun stuff hearing some Indian bits in there as well. Wonderful work with both themes, man.
- Crulex on April 13, 2013
High energy. Glitching was a tad erratic, but OK. The snare drum happens to be a pretty common 909 snare, but it works fine. Pretty good second sub!
- timaeus222 on February 24, 2013
I remember this from the compo - one of the best of the round, if I recall. Nice to see this one posted up here!
- Gario on February 23, 2013
Yeah! Nice job Pete! This was my favorite song of yours from the compo I do believe :) AKA
"Legends of the Hidden Charge Man"
- SuperiorX on February 22, 2013
What did you think? Post your opinion of this ReMix.
- djpretzel on February 22, 2013