Download MP3
7,910,244 bytes, 4:57, 211kbps

Play Preview
Streaming preview on YouTube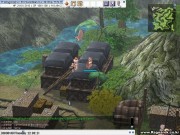 OA sends in an upbeat rock/metal arrangement of RO, featuring soaring lead guitars & synths, rapid-fire chugs, and a sweet tooth for dat sugary, major-key hook. This almost sounds like it could be the opener for a late 80's or early 90's family sitcom, where they run the cast list synchronized with choice snippets of footage featuring each wacky-but-lovable character. Which is totally a complement, if you missed it. He writes:
"My DoD Entry for the really cool town theme month, I loved the music from Ragnarok Online and was really excited to do a version of one of my favorite town themes ever. I changed the arrangement of the song quite a bit to be a lot more energetic, and noticed that it would fit really well with another theme in game, 'Wanna Be Free'. I didn't really change the arrangement of the second source much, as it already fit well, but I added some extra transition sections and possibly the most basic synth solo i've ever done over a new progression to tie all the bits together. This song ended up winning, which is pretty cool, and I love how cheerful and upbeat it ended up. I'd love to play this track live sometime! :-)"
Very cool; Andrew has this penchant for happy-go-lucky melodies whose major-key refrains just make you wanna smile, but I like that he's still able to juxtapose some more aggressive metal elements in there against the carefree overall mojo. Beat moves along nicely, synths are given their time in the sun with some focal points, guitars are sexy as always, and it's basically a classic diagnosis of "what's not to like??" Not much else to say - rockin', enjoyable, accessible stuff from OA!

Discussion:
Latest 10 comments/reviews; view the
complete thread
or
post your own
.
This song is almost to the point of adorable. :lol: I can't get the idea of an 80s sitcom out of my head now. Yes. Yes. Super fun track.
- Argle on August 16, 2013
Thank you so much for this awesome Track!
- AngelsDen on August 16, 2013
OA stuff as I like, yes ! :D
- Scaredsim on August 11, 2013
Yup, that one's going straight on the MP3 player :) Ridiculously cheerful track!
- Trism on August 10, 2013
I love the uplifting nature of this. Really fun remix, smooth guitar work, and awesome job! =D
- timaeus222 on August 10, 2013
The happy melody reminds me an awful lot of the old SF2 credits theme at certain points (mostly right after the first minute) because of the upbeat hook, but it really does a great job of painting the perfect picture of summer. Well done, OA, this is terrific.
- Crulex on August 9, 2013
Light n' happy summer fluff perfect for bopping along in the car or on foot.
- WesternZypher on August 9, 2013
that was a fun little track
nice work, OA :D
- Mirby on August 8, 2013
Omg, having to warp to this map and hear this music every time almost blew my head up, hah. But now that Ive stopped playing the game I've built an appreciation for this song, Ragnarok Online had some really awesome music in general anyways.
I find this to be a nice interpretation of the source tune, definitely dig the upbeat and heavy elements on this song. Nice work Andrew, good to see Ragnarok gettin some love =D.
- BlackPanther on August 8, 2013
What did you think? Post your opinion of this ReMix.
- djpretzel on August 8, 2013