"A first-rate warrior wins without lifting a finger."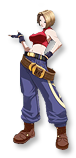 Article by: Polo
Pictured from: The King of Fighters 2003
Created by: SNK
First appearance: 1995
Bio
Born and raised in Southtown, U.S.A., Mary Ryan trained to mete out justice on the crime-infested streets just like her father, a police officer. With a body strengthened by Commando Sambo martial arts, she completes brawl-inclined assignments that weaker agents would fail at. Her late partner's jacket tops off her casual streetwear, and his nickname for her stuck when he ordered a like-named bar drink: a Blue Mary.
The annual King of Fighters tournament is an appreciative opportunity to track criminals' actions and to further her training. In hand-to-hand combat, Blue Mary executes bone-crunchers like the Mary Headbuster, Spin Fall, and Vertical Arrow, to name a few. Meanwhile, there are those who keep an eye on the blonde, like her mystery client, gauging a similar chance to strike...
Selected game appearances
Neo Geo
Fatal Fury 3: Road to the Final Victory (1995)
Real Bout Fatal Fury Special (1996)
The King of Fighters '97 (1997)
The King of Fighters 2000 (2000)
Arcade
The King of Fighters XI (2005)
References