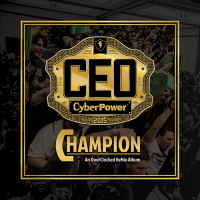 CEOJebailey:
"I'm extremely excited to have collaborated with OC ReMix on an album to represent one of my favorite genres: fighting games. Having local Florida artists and OC ReMix veterans create an album to represent this year's CEO is an awesome treat for attendees and fans."
– Alex Jebailey, Executive Producer


DarkeSword:
"I'm very excited and pleased to present CEO 2015: Champion, the latest in our series of fighting game community-focused albums. The FGC is one of the most passionate gaming communities out there; probably as passionate as OC ReMix is about video game music. I love getting involved with these big events year after year, gathering talented artists and giving the talented players a soundtrack to fight to. CEO 2015 promises to be one of the biggest and best of those events yet, and I think that Champion is going to capture the drive and determination that everyone competing is going to bring to the table. I hope everyone out there enjoys it!"
– Shariq Ansari, Director

For more on the CEO (Community Effort Orlando) tournaments, visit: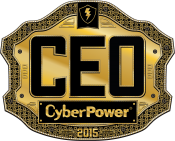 Director: Shariq Ansari (DarkeSword) (Homepage / Twitter)
Artwork: Richard Thiher (Twitter / Facebook)
Executive Producers: Alex Jebailey (CEOJebailey), David W. Lloyd (djpretzel) & Larry Oji (Liontamer)

CEO 2015: Champion features fourteen tracks from thirteen artists, including both original songs and arrangements of themes from ten different fighting games that comprise the CEO 2015 tournaments. It was made by fans, for fans, and is not affiliated with or endorsed by any game publisher or developer; all original compositions and characters are copyright their respective owners.
This album was produced to help promote video game music, the amazing CEO tournaments, all the original composers' compositions, and the talented artists that contributed to this project.
Download the Album
You can download the entire album using BitTorrent or download just the ZIP.
Download Torrent of Entire Album!
(HQ MP3 & FLAC, 14 Tracks, 53:54, 487MB)
Download ZIP of Entire Album!
(HQ MP3, 103MB) - Right-click & save any mirror link: MIRROR 1 ~ MIRROR 2 ~ MIRROR 3
Like it? Share it! Please help us spread the news!
Tracklist
Main Theme of CEO 2015
Sources: Killer Instinct (1994) - "The Instinct" (Title), "Controlling Transmission" (Glacius), "K.I. Feeling" (Orchid), "Tooth & Claw" (Sabrewulf), "Trailblazer" (Cinder)
Original Composers: Robin Beanland, Graeme Norgate
Source: Persona 4 Arena - "Princess Amagi-ya"
Original Composer: Atsushi Kitajoh
4. DjjD - "Prodigious Blitz"
Source: Tekken Tag Tournament 2 - "Tekken Tag Tournament Piano Intro -Massive Mix-"
Original Composer: Akitaka Tohyama
Tekken Theme of CEO 2015
6. Flexstyle - "It's Okay, I Still Made Money"
Source: Divekick - "JEO"
Original Composer: Harrison Pretat
7. zykO - "#unanimous #undisputed"
Sources: Super Smash Bros. for Wii U (from Punch-Out!!) - "Minor Circuit", Ninja Gaiden II - "Tower of Lahja ~ Heart of the Fortress"
Original Composers: Kenji Yamamoto, Ryuichi Nitta, Mayuko Okamura
Super Smash Bros. Theme of CEO 2015
9. PRYZM - "Together, We Fly"
Source: Super Smash Bros. Melee - "Fire Emblem" (from Fire Emblem)
Original Composer: Yuka Tsujiyoko
Source: Mortal Kombat (Sega CD) - "Techno Syndrome"
Original Composer: Oliver Adams
Mortal Kombat Theme of CEO 2015
Source: Guilty Gear X - "Blue Water Blue Sky <May's Theme>"
Original Composer: Daisuke Ishiwatari
Source: Ultra Street Fighter IV - "Theme of Decapre"
Original Composer: Hideyuki Fukasawa
Source: Ultimate Marvel vs. Capcom 3 - "Character Select Screen for UMVC3"
Original Composer: Hideyuki Fukasawa
You know we have more free music, right?
OverClocked ReMix has honored the music of games since djpretzel founded it in 1999.
Browse and download more than 3,000 free ReMixes honoring more than 900 games. Or download any of our free albums featuring more exclusive mixes.
If you've got room for more than 200 hours' worth of music, with more added every few days, you've got room for OC ReMix!