"Show me your moves!"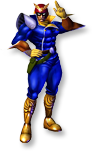 Article by: David Hesselbom (Dafydd)
Pictured from: F-Zero AX
Created by: Nintendo
First appearance: 1990

Bio
A 26th-century bounty hunter and hovercar racer, Captain Falcon is one of Shigeru Miyamoto's many creations. He debuted in Nintendo's racing game F-Zero, one of the first SNES games ever released. Even though the game allows the player to choose from four different characters — each with his own hovercraft — Captain Falcon, with his machine called "Blue Falcon," is really the protagonist of the game. He even has his own short comic in the F-Zero instruction manual.
Captain Falcon is a man of somewhat inflated self-confidence, and he likes to think of himself as someone who kicks ass both on and off the track. He has stayed that way throughout the long-running F-Zero series except in the Game Boy Advance title F-Zero: Maximum Velocity, in which none of the original F-Zero characters appear. Captain Falcon is also a playable character in Super Smash Bros., and he is alluded to in a variety of Nintendo games such as Kirby Super Star, Super Mario RPG, and Pokémon Stadium 2. He also stars in the cartoon series F-Zero: The Legend of Falcon, created in 2003.
Selected game appearances
Super NES
Nintendo 64
GameCube
Wii
Wii U
References