"Those industry fat cats try to put a price on my music, but it wants to be free."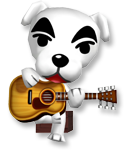 Article by: Taylor Brown (Mirby)
Pictured from: Animal Crossing: City Folk
Created by: Nintendo
First appearance: 2001
Bio
Totakeke, or K.K. Slider as he is more commonly known, is a rather relaxed canine musician who wanders the world of Animal Crossing. Every Saturday night, he'll show up in the player's town, ready to give a free concert for the townsfolk to come to. He doesn't mind playing a random track, but a song can be requested by name from his repertoire and he'll start playing it, no questions asked. He'll even give the player a copy of the song for them to play on their home radio afterwards, free of charge.
K.K. Slider has a few hidden songs in his setlist, and they can only be played if asked for by name. However, if a request is made for a song that's not in his setlist, he'll say he doesn't know that song and will play a random background jingle. Sometimes, he'll elaborate upon these songs in a future Animal Crossing game, turning them into full-fledged K.K. Slider classics. But no matter how much he's begged and pleaded with to play "Free Bird," it will all be in vain, just like at a real concert.
Although very little is known about his past, it's presumed that he has spent quite a bit of time perfecting his art. He is talented at a variety of musical styles, and can even be seen trading in his trademark guitar for a set of turntables (and some glasses) in Animal Crossing: New Leaf. What he does when he's not on stage playing music isn't known for certain, but he's probably out there somewhere, working on his next big hit. Even though his library consists of several dozen well-loved songs, there's always room in his setlist for one more great jam.
Selected game appearances
Nintendo 64
GameCube
Nintendo DS
Animal Crossing: Wild World (2005)
Wii
Nintendo 3DS
References