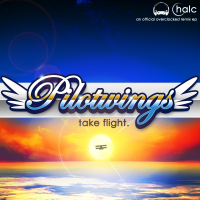 halc:
"Hey, I made this. Enjoy it!"
– Drew Wheeler, Creator & Producer

For more on the Pilotwings series, visit:

Creator/Director: Drew Wheeler (halc) (Facebook / Twitter / YouTube / Bandcamp / SoundCloud)
Artwork: Blake Troise (PROTO·DOME)
Executive Producers: David W. Lloyd (djpretzel) & Larry Oji (Liontamer)
Pilotwings: Take Flight features seven tracks from halc, as well as halc and Ben Briggs as the group Insert Rupee, arranging music from each entry in the Pilotwings series. It was made by fans, for fans, and is not affiliated with or endorsed by Nintendo; all original compositions are copyright their respective owners.
This album was produced to help promote video game music, the amazing compositions of Soyo Oka, Dan Hess and Asuka Ito, and the talented artists that contributed to this project.
Download the Album
You can download the entire album using BitTorrent or download just the ZIP. Also, pay attention and do not run out of fuel.
Download Torrent of Entire Album!
(HQ MP3 & FLAC, 7 Tracks, 22:40, 191MB)
Download ZIP of Entire Album!
(HQ MP3, 41.5MB) - Right-click & save any mirror link: MIRROR 1 ~ MIRROR 2 ~ MIRROR 3
Like it? Share it! Please help us spread the news!
Song Comments from halc
1. halc - "Liftoff (Get High)"
Source: Pilotwings - "Light Plane"
Original Composer: Soyo Oka
This is probably the simplest track on the album in terms of composition and production, but sets the tone for the rest of the album. Kick back, grab an in-flight drink, and enjoy. :)
2. halc - "The Evolution of Flight"
Source: Pilotwings - "Hang Glider"
Original Composer: Soyo Oka
This track is actually almost a year older than all the others. It was originally for a different project, but ended up being ineligible for various reasons. So, since I was up a Pilotwings remix, I thought why not make a few more and call it an album? The rest is history! :)
3. halc - "Freefall"
Source: Pilotwings - "Sky Diving"
Original Composer: Soyo Oka
This was definitely the toughest to arrange of the bunch, so it ended up becoming more of an intermission of sorts. The lead in this one is actually sampled from the original and timestretched to fit the new key signature.
4. halc - "9-bit Skies"
Source: Pilotwings - "Rocket Belt"
Original Composer: Soyo Oka
I decided to treat this one a bit more conservatively and focus more on the syncopation and rhythmic variation of the percussion and the interplay between various instruments. I think this came out to be one of my catchiest, most bouncy mixes yet. :)
5. halc - "You Don't Talk About Flight Club"
Source: Pilotwings - "Flight Club"
Original Composer: Soyo Oka
If your familiar with Palpable's excellent remix of the same theme, you'll probably notice that this was heavily inspired by it. I even stole his original melody, hopefully he doesn't mind! ;D
6. Insert Rupee - "The Birdman Cometh"
Source: Pilotwings 64 - "Birdman"
Original Composer: Dan Hess
The album needed some slow-jam/porn-groove action, 'nuff said. ;P
7. Insert Rupee - "Depth Perception"
Source: Pilotwings Resort - "Hang Glider"
Original Composer: Asuka Ito
djp wanted some 3DS action on the site, so, obviously, I was obliged to make this happen. This one actually built up some dust as a WIP on my hard drive, but my other half was able to help push it across the finish line. Very happy with how this turned out, and I believe it is one of our finest collabs yet. Enjoy the flight. :)
You know we have more free music, right?
OverClocked ReMix has honored the music of games since djpretzel founded it in 1999.
Browse and download more than 2,200 free ReMixes honoring more than 600 games. Or download any of our free albums featuring more exclusive mixes.
If you've got room for more than 150 hours' worth of music, with more added every few days, you've got room for OC ReMix!