m

Line 1:
Line 1:
−

:''Apex albums: [[Apex 2015: This Is the Moment]] / [[Apex 2014: A New Challenger!!]] / [[Apex 2013: Straight to the Top]]''<br/>

+

:''Apex albums: [[Apex 2015: This Is the Moment]] / [[Apex 2014: A New Challenger!!]] / [[Apex 2013: Straight to the Top]]''<br/>

 
 
 

<div class="column" style="float:right;width:200px;">

 

<div class="column" style="float:right;width:200px;">
---
Revision as of 22:00, 16 June 2016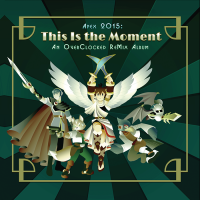 DarkeSword:
"Another year, another Apex album! As always, I'm excited to present another entry into our FGC-oriented album series. Players from all over the world train all year and travel from far and wide to find their moment at Apex, so this year's album is called "This Is the Moment" and it's all about everything they do and all the hard work they put in culminating in a battle of epic proportions. This year, we've got lots of great remixes from your favorite artists, covering old games and new games alike, with some killer album artwork to boot (from our Mega Man 25th anniversary album artist, rnn!).
We always have such a great time heading out to Apex and watching all the players absolutely destroy at Smash and all the other games out there, and every year the event only gets bigger and better. We're looking forward to doing more albums in the future, but for now, enjoy "This Is the Moment," and GET HYPE!!"
– Shariq Ansari, Director

For more on the Apex Series tournaments, visit: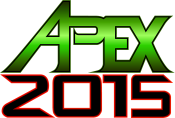 Director: Shariq Ansari (DarkeSword) (Homepage / Twitter)
Artwork: Maya Petersen (rnn) (Twitter / Tumblr)
Executive Producers: David W. Lloyd (djpretzel) & Larry Oji (Liontamer)

Apex 2015: This Is the Moment features ten tracks from ten artists, arranging themes from eight different fighting games that comprise the Apex 2015 tournaments. It was made by fans, for fans, and is not affiliated with or endorsed by any game publisher or developer; all original compositions and characters are copyright their respective owners.
This album was produced to help promote video game music, the amazing Apex Series tournaments, all the original composers' compositions, and the talented artists that contributed to this project.
Download the Album
You can download the entire album using BitTorrent or download just the ZIP.
Download Torrent of Entire Album!
(HQ MP3 & FLAC, 10 Tracks, 35:51, 403MB)
Download ZIP of Entire Album!
(HQ MP3, 64.1MB) - Right-click & save any mirror link: MIRROR 1 ~ MIRROR 2 ~ MIRROR 3
Like it? Share it! Please help us spread the news!
Tracklist
1. John Ryan - "This Is the Moment"
Main Theme of Apex 2015

2. DusK - "A Day Like No Other"
Source: Ultimate Marvel vs. Capcom 3 - "Character Select Screen for UMVC3"
Original Composer: Hideyuki Fukasawa
3. DarkeSword - "Got My Mind on My Money Match"
Sources: Super Smash Bros. for Wii U - "Menu"; Super Smash Bros. Brawl - "Main Theme"
Original Composers: Junichi Nakatsuru, Nobuo Uematsu
Source: Super Smash Bros. Melee - "Menu 1"
Original Composer: Hirokazu Ando
Sources: Pokémon X / Pokémon Y - "Santalune Forest," "It's a Pokémon Battle!"
Original Composer: Shota Kageyama
6. DjjD - "Bull in a China Shop"
Source: Super Smash Bros. Melee - "Targets!"
Original Composers: Hirokazu Ando, Tadashi Ikegami, Shogo Sakai, Takuto Kitsuta
Source: Super Smash Bros. Brawl (from F-Zero X) - "Dream Chaser"
Original Composer: Taro Bando
8. WillRock - "Filler Instinct"
Source: Killer Instinct (2013) - "The Instinct"
Original Composers: Robin Beanland, Mick Gordon
9. Neblix - "Girl from Another World"
Source: Ultra Street Fighter IV - "Theme of Decapre"
Original Composer: Hideyuki Fukasawa
10. Ivan Hakštok - "May the Stars Light Your Way"
Source: Guilty Gear Xrd - "Starry Story (May's Theme)"
Original Composer: Daisuke Ishiwatari
You know we have more free music, right?
OverClocked ReMix has honored the music of games since djpretzel founded it in 1999.
Browse and download more than 2,900 free ReMixes honoring more than 800 games. Or download any of our free albums featuring more exclusive mixes.
If you've got room for more than 200 hours' worth of music, with more added every few days, you've got room for OC ReMix!
Follow OC ReMix! Facebook / Twitter / YouTube