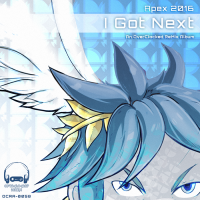 DarkeSword:
"When you play fighting games, you either lose or you win. When you lose, you get back up again and get ready for the next opportunity to prove yourself. When you win, you stand your ground and take on the next challenger. When you play fighting games, you're either going to hear or say the classic refrain we all remember: "I got next!"
Apex is under new management this year, and they're getting us ready for the next era of incredible Smash tournaments. We're proud to continue the tradition of providing a killer album of tracks covering the games at the event. Hope you enjoy."
– Shariq Ansari, Director

For more on the Apex Series tournaments, visit: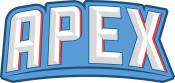 Director: Shariq Ansari (DarkeSword) (Homepage / Twitter)
Artwork: Shariq Ansari (DarkeSword) & Quentin Ross (Arkayne) (Twitter)
Executive Producers: Alexis Gepty (pimpsc00by), David W. Lloyd (djpretzel) & Larry Oji (Liontamer)

Apex 2016: I Got Next features nine tracks from twelve artists, arranging themes from nine different fighting games that comprise the Apex 2016 tournaments. It was made by fans, for fans, and is not affiliated with or endorsed by any game publisher or developer; all original compositions and characters are copyright their respective owners.
This album was produced to help promote video game music, the amazing Apex Series tournaments, the fighting game community, all the original composers' compositions, and the talented artists that contributed to this project.
Download the Album
You can download the entire album using BitTorrent or download just the ZIP.
Download Torrent of Entire Album!
(HQ MP3 & FLAC, 9 Tracks, 32:14, 304MB)
Download ZIP of Entire Album!
(HQ MP3, 65.1MB) - Right-click & save any mirror link: MIRROR 1 ~ MIRROR 2 ~ MIRROR 3
Like it? Share it! Please help us spread the news!
Tracklist
Source: Super Smash Bros. - "Character Select"
Original Composer: Hirokazu Ando
Main Theme of Apex 2016

2. PRYZM - "The Path of Heaven"
Sources: Street Fighter II - "Ryu (Japan)," Street Fighter III: 3rd Strike - "Ryu Stage ~ Kobu"
Original Composers: Yoko Shimomura, Hideki Okugawa
3. WillRock - "Have a Nice Death"
Source: Ultimate Marvel vs. Capcom 3 - "Ghost Rider"
Original Composer: Hideyuki Fukasawa
4. timaeus222 - "Iron-Headed Pursuit"
Source: Pokkén Tournament - "Ferrum Stadium"
Original Composer: Shota Kageyama
Source: Super Smash Bros. Brawl - "Super Smash Bros. Brawl Main Theme"
Original Composer: Nobuo Uematsu
6. Sir_NutS - "Werewolf Transformation"
Source: Killer Instinct (SNES) - "Tooth & Claw (Sabrewulf)"
Original Composer: Robin Beanland
7. DJ RoboRob - "Technical Disorder"
Source: Mortal Kombat (Sega CD) - "Techno Syndrome"
Original Composer: Oliver Adams
Source: Super Smash Bros. Melee - "Menu 1"
Original Composer: Hirokazu Ando
9. DjjD - "Incognito"
Source: Super Smash Bros. for Wii U - "Menu"
Original Composer: Junichi Nakatsuru
You know we have more free music, right?
OverClocked ReMix has honored the music of games since djpretzel founded it in 1999.
Browse and download more than 3,200 free ReMixes honoring more than 900 games. Or download any of our free albums featuring more exclusive mixes.
If you've got room for more than 200 hours' worth of music, with more added every few days, you've got room for OC ReMix!
Follow OC ReMix! Facebook / Twitter / YouTube / SoundCloud / Tumblr