ReMixer Interview: Gamer Symphony Orchestra
views
advertisements
personal tools
navigation
toolbox
This page was last modified on 10 May 2009, at 14:41.
This page has been accessed 5,425 times.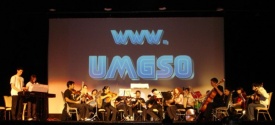 Real Names: Greg Cox (conductor), Chris Apple (music director), Justin Johnston (PR director)
ReMixer Name: Gamer Symphony Orchestra
Date of Birth: Fall 2005
Birthplace: College Park, Maryland, USA
Founded in Fall 2005 by a small group of students from the University of Maryland Repertoire Orchestra, the University of Maryland Gamer Symphony Orchestra is the world's first college orchestra dedicated solely to playing video game music. All of their music is arranged in-house by their own members.
We caught up with Greg Cox (conductor), Chris Apple (music director) and Justin Johnston (PR director) at MAGFest VII and recorded a sweet little video interview that tells you most of what you need to know. Larry did the interviewing, and I did the editing - my first time editing an interview, which is its own special type of challenge, but I think given the impromptu setting, background noise, and relatively free form nature of the source material, it came together well. In HD, too! — djpretzel
Interview
Conducted January 2, 2009 by Larry "Liontamer" Oji, edited by David "djpretzel" Lloyd: