ANNUAL FUNDRAISER!! Help us take OCR to the next level by supporting us on
Sponsors: Bart Verbeek, Cynical Brit, Matt (aka Antidragon), Michael Beauchamp, Wesley "Bahamut" Cho.. + hundreds of supporters! Thanks!!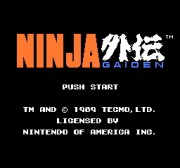 I think you're all gonna like this one; I know I do. Our first submission from SFLaValle is a VERY strong showing in the trance arena, covering Ninja Gaiden's Masked Devil theme in glorious mind-numbing fashion with a never-ending filtered stab line, cool reverbed pizzicato strings, ample supplies of echo, and a rock solid soft bass kick and sub-synth style low-end. This all comes together in a fashion that really works, and reminds me of playing the game, which was a masterpiece of 2d platforming gameplay the likes of which the world never saw (for real) again after the NES. Tecmo dropped the ball in a HUGE way in not making this a true franchise and doing 16-bit, 32-bit, and now 128-bit versions. Ahhhh! But at least we can relive the glory with tracks like this - must-grab, don't be without it, VERY groove. Makes ya long for the good ole' days . . .