ReMix:

Mega Man 4 'Get a Weapon Weapon'

Download MP3
5,510,349 bytes, 2:53, 251kbps

Play Preview
Streaming preview on YouTube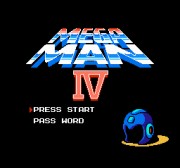 Newcomer duo MMvsUSAF, aka Sean Bires & Dave Walwark, are here to get all up in your face regarding Mega Man 4; you can find out more about "Mega Man vs. the United States Air Force" on their blog or Facebook page, and if you live in Chitown you might be able to catch a live performance. They provide minimalist backstory for this MM4 hip-hop extravaganza:
"Dave watched his cousin Wesley play MM4 quite a bit and this was his favorite jingle. Now expanding upon it, that was the hard part..."
Judges summed this one up nicely so let's get some tag-team judgequote action - Deia writes:
"...the lyrics are very clever, and the delivery works for the track. Arrangement is there, and there's definite expansion on the original. Considering the source is 7 seconds long, stretching it to 2:53 without becoming boring is quite a feat, although I think the outtro could have been a repetition shorter. Production is good, with nothing being overpowered. Beats are repetitive, but it works for the track."
Jesse Taub, Traitor to the East Coast and newly-relocated Californian, inserts:
"So I feel like I'm late to this whole "Nerdcore" party that seems to be all the rage with the kids these days. Well this track is certainly nerdy, and it's also got its fair share of awesome. The production is great. Hip Hop is tricky to vote on for OCR because of the generally repetitive nature of mainstream (and underground) hip hop beats. Without being too lenient I can fairly say that while this track does conform to hip hop conventions, there's enough going on musically to keep it interesting and to push it over the bar. Far from 'Write 4 bars, Ctrl+C, Ctrl+V'"
Last and always least (until he gets a cell phone), Larry adds:
"Just wanted to quickly co-sign on this great mix. This had cool, fun lyrics, but what really grabbed me (and will catch the ear of a lot of others), was the beat that immediately opened things up. Your mileage on the repetitiveness of the chorus may vary, but the different drop-ins right before "get a weapon weapon" and behind "ride so high" threw in some variation to not let things get stale. I always love hearing the latest mix that sounds nothing like any other mix. Awesome stuff, and hopefully not the last submission we hear from Sean & Dave."
Ditto all that - judges really nailed it, so I'll just corroborate their sentiments - great to see some MM4 love, but especially in the form of under-represented and well-crafted hip-hop!