ReMix:

Mega Man 3 'Switchblade Fangs'

Download MP3
10,572,938 bytes, 6:31, 215kbps

Play Preview
Streaming preview on YouTube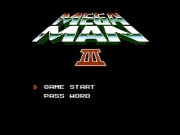 Jacob Diaz (Jakesnke17) debuted in December of last year with a nice 'Snake Man' electronica mix from MM3, and follows that up with... another 'Snake Man' electronica ReMix!? And this time Quick Man (MM2) & Blade Man (MM10) are along for the ride? There could only be one explanation: DarkeSword's Grand Robot Master ReMix Battle. Jacob writes:
"Hey all, this is my 2nd submission for OC ReMix, just wanted to go into a little bit of a backstory I guess. This one was my entry for the Grand Robot Master Remix Battle: Round 1. I originally had Quick Man as my source but...there was an error in the listing between who got what, so I ended up with Snake Man. This is also my 2nd time remixing the same source, only this time with other sources (Quick Man included, even though, it's only a second long). Spent a lot of time on this one and I think in the end it sounded kinda cool, only problem being I had to sacrifice audio quality for the length of the song. Anyway, hope you guys enjoy. :D"
This is actually a pretty different arrangement from the artist's debut mix, when it comes down to it, and it certainly proves the first was no fluke - nice production, chippier textures this time, some good attention to detail, and a rather smooth flow add up for another enjoyable experience. Emunator writes:
"I remember this mix very fondly from the GRMRB, the level of effort and detail really stood out to me back then, and it does now, too. The arrangement, piano writing, and use of sound effects are all high points in the song that feel especially well done. In fact, I can't sing enough praises about the arrangement itself, which I feel totally justifies the 6 minute runtime by constantly changing up but keeping the classic Jakesnke chiptune flavor present almost all of the time. I'm very impressed!"
There's a lot of attitude & grit here, and I do feel like the (relatively) longer running time is more or less justified. There may not be a ton of focus or direction, but this is more of a jam piece that's primarily concerned with, well, sounding cool. And it does, so there! Plus exposed solo piano ending adds some depth & dimension and was an interesting, risky, and I think worthwhile judgment call. GRMRB has gotten a couple new deserving artists onto the site, now, so I'm looking forward to seeing some non-Mega Man follow-ups in the months to come; good stuff.

Discussion:
Latest 8 comments/reviews; view the
complete thread
or
post your own
.
Yes, this is good. almost sounds like it could have benn made 15 or 20 years ago. because it has this acoustic sort of sound, like it was made with old school equipment. instead of that modern perfect electronic crisp. instead there seems to be a more loose edges. i dont know what Im talking about now. you got a download from me
- bobby1983 on July 20, 2012
Thanks for the kind words guys!
Honestly, I'm surprised this even passed. I have to thank my opponent here...had it not been for CyrilTheWolf, a.k.a Blades...this piece would not exist. :nicework:
Looking back on a year ago, I realize this isn't as strong as it could have been but...for what it's worth, I think upcoming submissions should be a lot stronger...production, focus, and arrangement-wise. At least I hope...
...and hopefully not, erm, Snake Man. o_O
- Jakesnke17 on July 15, 2012
Oh wow, long song!
I like the buildup that is present in the first quarter of the song or so, but it wasn't perfect - I found some of the background instrumentation a bit on the confusing side at a few moments between the 1 to 2 minute mark. I feel the second half of the song is weaker than the first few minutes, and a little too tame, especially after the buildup early on.
Not bad, but could use work IMO.
- Bahamut on July 15, 2012
Ooo, I remember voting for this. Sooo good, glad to see that it got posted. I love the funkiness and the selection of sounds, awesome track man!
- BlackPanther on July 10, 2012
Quite possibly my most favorite tune from him to this day. Every time I bring it up to him, I just know he's shaking his head in embarrassment :mrgreen:
- Overklocked on July 10, 2012
This remix is bangin', and I loved the Quick Man reference, however subtle :P
Great job, Jake! Keep 'em coming!
- MechaFone on July 9, 2012
Haha I was talking to Jake when this got posted! I remember liking this song a lot from the GRMRB. The piano parts in particular were really enjoyable against the chippier, more electronic vibes throughout the rest of the song. Nice job man!
- SuperiorX on July 9, 2012
What did you think? Post your opinion of this ReMix.
- djpretzel on July 9, 2012