ReMix:

Batman 'Flugel Rock'

Download MP3
7,125,742 bytes, 4:54, 192kbps

Play Preview
Streaming preview on YouTube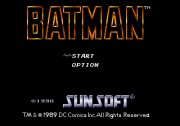 MORE THUNDER THOUIN! I absolutely loved Yan's debut mix from early last year, partly because I'm a HUGE fan of SCIV, but mostly because it was badass. Very glad to be posting a follow-up, and also glad it's from a game that hasn't gotten enough love - Batman for the Genesis. The artist writes:
"I'm really excited to cover this game because it brings back a lot of memories.. Naoki Kodaka is like a legend in my opinion, what he did on numerous titles was always melodicaly driven and epic . So, when I browsed trought the overclocked list, I couldn't believe that there was not a single remix about this game. C'mon guys ! the whole soundtrack is awesome!! I altered the structure a bit.. especially for flugelheim, but the main melody is always present so I hope it's ok for the judges. After 2:33 I stick with that section until the end because it felt more engaging and easy to built up the climax with this melody.

So, here it is, I'm really happy to pay my respect to an epic composer and I hope you guys will like it!"
And they did, unanimously. Which isn't surprising, based on the strength of Thunder's first mix. Once again we've got an epic hybrid orchestral arrangement, this time blending in some sweet electric guitar, acoustic piano, and rock drums. This guy means business, and his second ReMix shows even more of what he can do. Very unconventional ending that fades out everything but drums & bass elements; I think it works, and it's certainly a bold move. OA sums up my own feelings:
"Pretty. Damn. Excellent.

This arrangement style reminds me a lot of the Terran music from the first Starcraft, which I thought was very well done. The textures were perfect, the part-writing was varied, and slowing the melody down really gives it a dramatic feel that I think really works. There is a lot of personalization put into this, but there is a strong connection throughout. I really enjoyed this one, the style is great and and execution is confident and powerful."
So it's powerful, creative, distinct, confident, arranges a game we didn't have a mix for yet, and continues in the artist's initial, impressive style while expanding it as well. What's not to like? Superb sophomore mixpost from Thunder Thouin; eagerly anticipating whatever comes next!

Discussion:
Latest 11 comments/reviews; view the
complete thread
or
post your own
.
I'm not familiarized with the game, but this music in an excellent surprise. I love the blend between symphonic and rock style. Great Job!!
- bluelighter on September 21, 2013
Man.. you nailed it. Best remix on here that I've heard in awhile, love that Zergness at 0.44 - 1.00! YES! GO WORK FOR BLIZZARD!
The ending could be better it sounds like how a Amiga MOD would end.. other than that, fabulous work.
One more thing, I want the FLAC version. This needs to be on my PC in higher quality than 192kbps.
- Ryrynz on July 1, 2013
I know EXACTLY what is meant by the comparison to Starcraft's Terran music, and I agree completely. I'm so used to hearing all this overblown dramatic scores in today's video games that sound like something Hans Zimmer would scribble on a knapkin. It's wonderful to hear something that's similarly epic, but in a more subtly textured, less derivative way.
- Nobbynob Littlun on June 18, 2013
Really got into this one after the introduction set in and moved on about a minute and a half in. The cinematic elements and electronic bits worked well together here. This is some great orchestration. Bass ending was a nice touch.
- Crulex on June 15, 2013
This is a pretty awesome cinematic remix. :D 1:38 had some creative SFX use too.
- timaeus222 on June 10, 2013
The music from the Genesis version of Batman rarely gets any attention. Everyone always wants to talk about the NES music, but the Genesis stuff is really [i]really[/i] good. As for this mix, well, it's alright. It's definitely very well made and stands out as an amazing original piece with maybe a little Genesis Batman sprinkled on. I think it might be a bit too arranged for my tastes because it doesn't remind me of the original music at all except for a little part after the two minute mark. The Genesis Batman music is something I've been listening to since well before it was released in the US (I bought the JP Mega Drive version of the game). And it should also be said that I'm not really big on most orchestral mixes, real or fake. So take my opinion with a grain of salt. (I don't like solo piano mixes, either).
- Joe Redifer on June 10, 2013
This is really nice with great blending of orchestra and electronic synths. I've been looking forward to this one and I know why. :-D
- darkbrandflake11 on June 10, 2013
This is awesome. I'm really glad Yan was able to take another pass at the production. This'll really stand the test of time much better now, and it sounds excellent. :-)
- Liontamer on June 10, 2013
This is completely amazing and I want to hear more, immediately, from Thunder Thouin. Need to collab with this artist!
- Omni-Psyence on June 10, 2013
Batman genesis! Yes!
- BONKERS on June 10, 2013
What did you think? Post your opinion of this ReMix.
- djpretzel on June 10, 2013