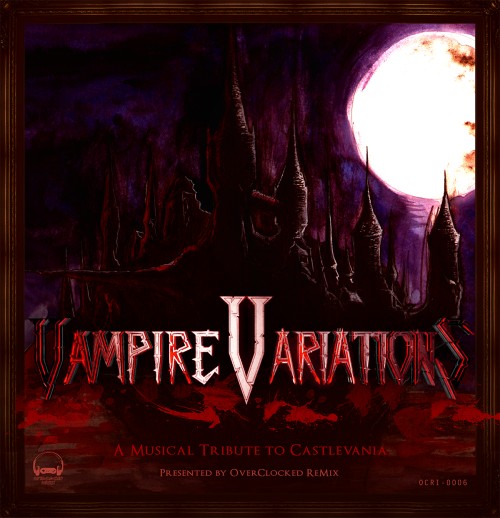 Album:

Vampire Variations: A Musical Tribute to Castlevania
A free
arrange

album, published by OverClocked ReMix on 2015-10-31
Discussion
Latest 2 comments/reviews; view the
complete thread
or
post your own
.
---

nitrozsz
on 2015-12-29 21:02:25
---
General Overview:
This is a great album for anyone who was ever a fan of classic Castlevania music. I do have to add that if you don't like rock arrangements, this album might turn you off, as most of the album fits in the rock genre one way or another. But if you like rock arrangements and Castlevania music, then you'll REALLY like this album. A little more than half of the tracks on the album I listened to all the way through. Less than half of the album was skipped because it wasn't for me. Not gonna say which tracks I skipped, but there was definitely more than enough content on this album to keep me satisfied till the end.
Album Strengths (AKA Personal Favs):
Track 3: Swamp Ripples (Stalker) by Viking Guitar
Very Metallica inspired. So elegant, yet intense.
Track 7: Vampire's Kiss (Vampire Killer) by Brandon Strader
Great guitar work with clever integration of voice samples. I especially love the combination of voice sample and guitar at the 1:21 mark.
Track 9: The Gate of Nightmares (Medley) by BONKERS feat. Viking Guitar
I would absolutely love to see this performed live. It's just so wonderful, and fun with seamless transitions in between each section of the medley.
Track 10: Underground Pulse (Underground) by Chernabogue
Nothing but percussion instruments here. And the way they were performed is so uniform and interesting. Each percussion instrument used in this track was used very wisely.
Track 11: Of Whips and Strings (Medley) by Super Guitar Bros.
Two acoustic guitars creating six minutes of pure, simple Castlevania goodness. Absolutely incredible medley.
Track 16: Edge of Darkness (Walking on the Edge) by The Dual Dragons
I'm amazed that this is an arrangement of level BGM, because it sounds like an incredible and intense boss fight is going on when I hear this.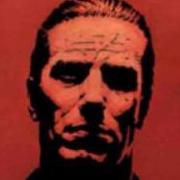 Liontamer
on 2015-10-31 11:01:50
---
It is with an immense pleasure and honour that I am able to present to you Vampire Variations: A Musical Tribute to Castlevania.
Vampire Variations was created to celebrate the twenty-fifth anniversary of Konami's landmark series, Castlevania. Twenty musicians to arrange the mythic soundtrack of the original NES game that started it all. Andrew Warwick as visual artist to recreate the unique atmosphere of the demon's lair known as Castlevania. A wide variety of musical genres going from rock and orchestral to jazz and electronic music, including various references to other titles from the series.
It has been a true honour and a privilege to create, direct, and contribute to a such project. I would like to thank everyone who supported this venture, and to all people involved be they musician or visual artist.
Now, be prepared for an Aria of Sorrow, a desperate Rondo of Blood to this Symphony of the Night! The Lord of Shadows rises from his grave and only one man can stop him...
...What a horrible night to have a curse!
-Alexandre "Chernabogue" Mourey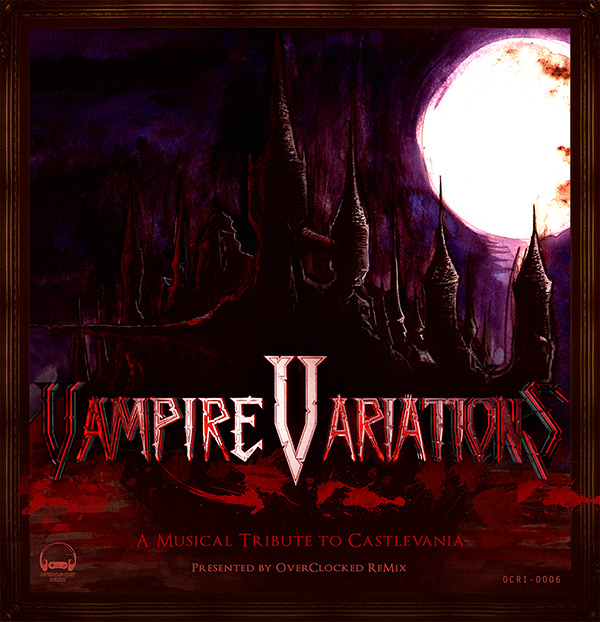 Content Policy
(Submission Agreement and Terms of Use)
Page generated Thu, 28 Jan 2021 13:19:55 +0000 in 0.2486 seconds
All compositions, arrangements, images, and trademarks are copyright their respective owners. Original content is copyright OverClocked ReMix, LLC. For information on RSS and JavaScript news feeds, linking to us, etc. please refer to resources for webmasters. Please refer to the Info section of the site and the FAQ available there for information about the site's history, features, and policies. Contact David W. Lloyd (djpretzel), webmaster, with feedback or questions not answered there.