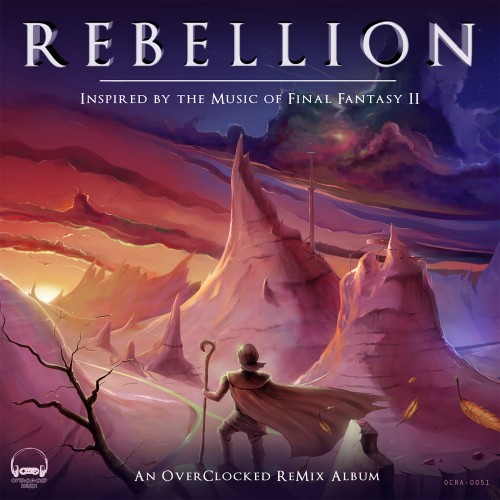 Album:

Final Fantasy II: Rebellion
A free
arrange

album, published by OverClocked ReMix on 2015-06-08
Disc 1
| | |
| --- | --- |
| 1. Preluematsude (Prelude) | 4:09 |
| 2. The Last March (The Imperial Army) | 4:33 |
| 3. Rebirth (Revival) | 3:16 |
| 4. Rebel Dream [Main Theme (FF1), The Rebel Army, Find Your Way (FF8), Main Theme] | 6:07 |
| 5. Leon Is a Fucking Dick (Battle Theme 1) | 4:05 |
| 6. garLACTUS Win [Victory, Fanfare (FF7)] | 2:19 |
| 7. Deuces (Ancient Castle) | 2:50 |
| 8. Firion N Maria (Will Take You to the Rebels) [The Rebel Army] | 5:13 |
| 9. Analog Freedom (Town, The Rebel Army) | 3:27 |
| 10. the final WON (Battle Theme A, Victory) | 4:00 |
| 11. Rebellion (Dead Music, The Rebel Army) | 4:31 |
Disc 2
| | |
| --- | --- |
| 1. Heroes of Dawn [Chaos Temple (FF1), Reunion, The Rebel Army, Deep Under the Water (FF3), Dead Music (FF1)] | 6:48 |
| 2. Snakeyes (Battle Theme B) | 6:35 |
| 3. Grind My Crank (Tower of the Magi) | 4:03 |
| 4. Personification of Evil (The Emperor's Rebirth, Escape!) | 3:53 |
| 5. A Kingdom Fallen (Main Theme) | 6:27 |
| 6. Torchlit (Dungeon) | 5:38 |
| 7. GG but ___ Solos Win [Victory, The Winner (FF8)] | 2:46 |
| 8. Castellum Infernum (Castle Pandemonium) | 3:49 |
| 9. Imperial Rapture (Battle Theme 2) | 6:14 |
| 10. Finally (Finale) | 1:28 |
Credits
Arrangers
Composers
Performers
Gario
on 2017-01-30 13:26:32
Some details can be found here, but the short end of it is that Brandon requested his music be removed from OCR due to a conflict between them. Fortunately, the album is under a different contract agreement entirely so you may still enjoy his music on there, but not individually on OCR.
It's a shame, but there isn't much we can do about it.
Chromarin
on 2017-01-30 12:56:47
Umm, sorry if this is the wrong place to ask this, but I was wondering why "Rebirth" is no among individually featured remixes anymore?

It was one of my favorite tracks...
ZealPath
on 2015-09-13 03:54:32
I am a little late to the party on this album, and it has literally been years since I have posted on these forums, but I have to say, I really enjoyed this album. "Rebirth" was awesome because I always thought that was a very unique song on the OST and I loved the way it was expanded upon in the remix. But, what really stole the show for me was "GG but ___ Solos Win," I can totally understand why some might think it's a minor copout to use elements from the FFVIII OST in an FFII album but man, the amount of love I have for this song is off the charts. It took me a while to remember what it reminded me of, which was "Smooth as Honey" from the MM9 album, both of course, involving Sir Jordanius (but don't worry Brandon, you know I 3 you too!), some things just make too much sense!
While those 2 were the big ones for me, I found the album as a whole just as good as anything I've heard in the past. The metal vibe in "Torchlit" felt very classic, almost like the Doom soundtrack/Metallica/etc and the whole speech thing in "Personification of Evil" was a great touch. Thanks as always for putting together an awesome remix album for what quite frankly, is "probably" the most boring source material FF has to offer (and again I stress that is meant as a compliment!).
Mirby
on 2015-06-13 15:54:05
Just wanted to add that this made me start replaying ff2 so thanks for that haha
bluelighter
on 2015-06-13 05:29:01
I was really impatient to hear this album! A lot of jewels in the large variety of styles. I find this album better than the precedent, for its eclecticism. Here, the album includes also a piano piece and a jazz mix. I find also the the balance between electro and metal style more succeeded
Only point, I would have prefered album have been more specific to ff2 (whose music is self-suffisant IMO), and didn't take sources from other games of the saga.
Great work from each artists ; and great tribute to master UEMATSU

IanFitC
on 2015-06-10 14:21:08
It's finally here! Words cannot express

Tuberz McGee
on 2015-06-09 20:07:31
This album is still a ruse.
It's a pretty damn good ruse though.
Fureddi
on 2015-06-09 04:30:11
Hmm...
Track by track so far.
Ok, so I'm a sucker for the Prelude. (Preludematsude)
Not bad (The Last March)
Blends into the background well as I work (Revival)
Wait... that's Final Fantasy VIII!? Oooooooo. (Rebel Dream)
*sees song title pop up* I do like a good song title that makes me giggle... Also win. (Leon is a Fucking Dick)
*hears "By our planets combined* Hah...

(garLACTUS Win)
I can see myself humming along... and this getting stuck in my head. (Deuces)
And that's where I'm at now.
paxl13
on 2015-06-08 14:29:34
Good Lord,
Current in my second play through and honestly this is absolutely AWESOME. Thank you so much to everyone for this masterpiece!!!
Cheers,
paxl13
Mirby
on 2015-06-08 12:31:42
Liontamer
on 2015-06-08 11:29:07
A great album is the sum of its parts as much as any social movement or revolution is the culmination of efforts from brave individuals. The sheer amount of dedication that went into creating Rebellion will be difficult to properly appreciate; many of the involved artists worked on their music for months. Some of them worked on particular songs for over a year. At the end of this journey, it was the combined vision, talents, and dedication of each artist that created an album with its own personality. A smooth experience that seemingly has its own narrative, from one song to the next.
I'm eternally grateful to the artists that returned to work on Rebellion after the completion of the first album, Random Encounter. I am equally grateful to those who are making their first appearance, and those who have chosen to be on the final album covering Final Fantasy 3. Without your hard work and sacrifice, this album would not have been possible. To the fans - I hope that listening to this album fills you with as much joy as it has given me these past several years.
Thank you for the rebellion, and may our random encounter continue to bring us liberation.
- Brandon Strader
Content Policy
(Submission Agreement and Terms of Use)
Page generated Tue, 27 Jun 2017 20:00:11 +0000 in 1.4526 seconds
All compositions, arrangements, images, and trademarks are copyright their respective owners. Original content is copyright OverClocked ReMix, LLC. For information on RSS and JavaScript news feeds, linking to us, etc. please refer to resources for webmasters. Please refer to the Info section of the site and the FAQ available there for information about the site's history, features, and policies. Contact David W. Lloyd (djpretzel), webmaster, with feedback or questions not answered there.