ReMix:

Super Mario Galaxy 'Fill Me Up with Snacky Happiness'

Download MP3
3,702,639 bytes, 2:31, 192kbps

Play Preview
Streaming preview on YouTube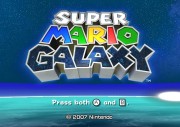 How'd this happen? I mean REALLY... Blake's taken the familiar overworld melody from SMG, and turned it into... SEXY JAZZ!?
Mr.·DOME writes:
"Quite an old track, found it the other day, finished it off. Observatory themes are always awesome. Just to clarify, all the SFX are from Mario/Smash Bros games. Warning, this is pretty sexy.

Heh, "finished it off"."
Blake's been a VERY GNAWTY BEAVER; mind in the gutter, for real. But a very funky, musical gutter, joined by an exultant lead saxophone, anchored by a thick steak of a bassline, and completed by 80's clap-happy gran-pappy drums, smooth keys, percolating synth accompaniment, and supple, fret-noisy acoustic guitar. Arrangement swing-times it up, with tons of syncopation & pause-hit break passages, later accentuated by what is presumably Rosalina's... excitement. It sounds so wrong, when you hear it... and yet so disturbingly RIGHT. The titular "Snacky Happiness" allusion will no doubt be lost on those who haven't played the game, but it's pretty lewd either way - I just don't know how a mix like this germinates in the mind, but I'm sure glad it did. Deia confesses:
"I was going to consider recommending this as an appropriate holiday release...until I heard those sfx. >.< Orgasmic moans aside, this is a pretty sexy piece, with some smooth sax playing and that deep bass. Source usage is obvious and nicely adapted. And, I have to admit, the yelps and moans are used oddly tastefully."
Larry gives his two cents:
"...the arrangement was definitely solid, Smash moans or not. Wasn't really a fan of the moans. No hate (or effect on the vote), it just means it's not one I'd share with people when discussing what we do at OCR. Well, time to add this one to the pile alongside Xenogears 'Daijiru (Too Hot for Clothes)'"
Well, let's clarify: You wouldn't share it with SOME people. OTHER people - people who are open to the notion of sexy jazz arrangements of VGM that are peppered with suggestive female noises - that's a different story. The perfect demographic, even. Whether your inner prude is stronger than your inner prurience, you'll hopefully appreciate the craft & tongue-in-cheek (and perhaps elsewhere) nature of the mix, which I think makes it quite playful, devilish, smooth, & memorable.