Article:

OC ReMix: Super Street Fighter II Turbo HD Remix Official Soundtrack/Individual Tracks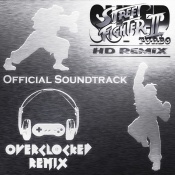 Capcom:
"Working with the OC ReMix crew has been one of the most rewarding aspects of working on SF HD Remix, truly making the game a community effort. These guys are part of the meat and potatoes of what makes the Street Fighter fanbase such a lasting part of the gaming industry. Upon contacting them, they were able to turn out product on short notice, with high quality, and were very open to any changes that we required. They worked above and beyond our expectations and I'm hoping that we'll be able to work together in the future." – Rey Jimenez, Associate Producer, Capcom Entertainment
Download the Album
You can download the entire album using BitTorrent or download individual MP3s below.
Download Torrent of Entire Album! (HQ MP3 & FLAC, 66 Tracks, 62:45)
Individual MP3s: