Ask the Mass Effect 2 Composers (BGC's one of 'em!)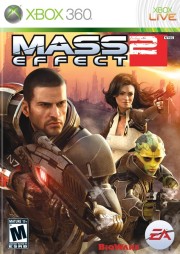 So an obscure little indie game came out not so recently that you may have heard of,
Mass Effect 2
, and guess what?
Along with Jack Wall, Sam Hulick, David Kates, and music implementation by Brian DiDomenico, the OC ReMix judges panel's own Jimmy Hinson is one of the composers!
How awesome is that
? Couldn't have happened to a nicer guy, but it was also mad skills what got him the gig, and we're all very proud he could work with Lead Composer Jack Wall and two other talented & established composers to score the soundtrack to the megahit that is ME2. So, first off,
Mass Congrats to Mr. Hinson
... truly an amazing achievement. Secondly, we wants to know:
How'd Jimmy get the gig?
How did Video Game Live co-creator Jack Wall lead a team of badass composers to score one of the most anticipated sequels of video games?
How much inspiration did they draw from the original score vs. composing from scratch?
How much alien sex did they study & analyze - professionally and scientifically - as part of the creative process?
Those are some of the questions WE came up with that WE wanna see answered, but we're pretty sure you've got more
. So, post 'em here, and we'll pick and choose and present the final list to the entire ME2 composition team for their thoughtful consideration... and amusement.
Post your questions for the Mass Effect 2 composers on this thread, but remember...
Keep it relatively PG, and always respectful.
Questions should focus on ME and ME2 only; comparison/contrast to other soundtracks from the same composers are OK, but questions about completely different games/scores should be avoided.
Questions can either be directed at a specific composer, or posed to the whole team, in which case Jack will probably respond himself or delegate accordingly. Be specific by prefacing your question with either the name of the composer, or the word "Team".
Multiple Qs per thread is fine, just try to limit it to three or four good ones rather than a battery of... less good ones.
Questions must be submitted by Monday, February 15th, which gives y'all a week.
So, once again, huge congrats

to Jimmy and all the ME2 composers for a job well done... now post your Qs!